As some of you may remember, last summer Bristol-based filmmaker, Pru Fowler and I filmed some videopoems of my work.  We have decided to celebrate the finished edit of Pillion by launching the two films in Bristol and Leeds respectively with two video poetry and performance events.  We are delighted to be able to show some fantastic videopoems alongside our own and to have some world-class contemporary artists performing at the events.  Blurbs about the events are below and full details can be found at the websites.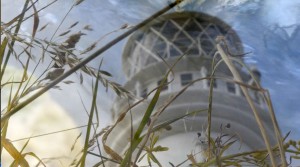 Words In Motion Bristol – an evening of video poetry and performance as part of the Bristol Spring Poetry Festival 2015.
Wednesday 15th April, 20:30
£4/£3 (cons/open mic)
A showcase of videopoems featuring the premieres of Paisley Quilt and Pillion by Bristol film-maker Pru Fowler and Leeds poet Becky Cherriman.  Live performances by Rebecca Tantony, Caleb Parkin and Becky Cherriman.  Live music by José Solo.  Open mic.
People wishing to perform at the open mic should book in advance as we are limited to 6 places. Open mic slots are for 3 mins maximum per person. We will be strict on timings.
Tickets available on door or in advance from The Arts House
Words In Motion Leeds – an evening of video poetry and performance
Friday 8th May, 19:30
£7/£5.95 (con/open mic) including booking fees and a glass of wine/soft drink.
Leeds launch of Paisley Quilt and Pillion by Bristol film-maker Pru Fowler and Leeds poet Becky Cherriman.  Introduced by Siobhan Mac Mahon with a special showing of her film Forgotten Memory.  Features performances by Michelle Scally Clarke, Antony Dunn and Char March, and an open mic element.
People wishing to perform at the open mic must book online as we are limited to 6 places. Open mic slots are for 3 mins maximum per person. We will be strict on timings.
Proof required on presentation of concessions ticket.  To ensure a seat, booking is advisable through Eventbrite
N.B. Depending on sales, tickets may be available on the door at £7/£6 (con).
About The Films
Becky's performance of the poem Paisley Quilt took 2nd prize in the 2011 Ilkley Literature Festival Open Mic competition. In 2013, the text was part of the award-winning Against Rape campaign. Now a film has been made of the poem.
'How do you make a film of a poem about rape?' asks Dave Bonta of Moving Poems, 'Poet Becky Cherriman and director Pru Fowler take a minimalist approach, with an unflinching close-up on the author's face and her impeccable, understated delivery. The result is way more than just another talking-head-style spoken-word poetry video.'
Director – Pru Fowler
Written and performed by Becky Cherriman
Dealing with themes such as identity, growing up, father-daughter relationships, seaside memories and independence, videopoem Pillion employs the devices of cinematography and sound effects to further layer the meanings of this poem.
Director – Pru Fowler
Written and performed by Becky Cherriman
Haunt
Steve Toase and I have just finished the writing workshop stage of Haunt, the project commissioned by Imove.  Since the beginning of the year, we have been working with people experiencing homelessness in Harrogate.  Our next step is to put together an anthology of work produced.  Participants' writing has been very rich and has included songs, poems, flash fiction, memoirs and short stories.  I'm going to write more in depth about this fascinating commission in the months to come.  But for now you can find out more about the project, read some of the work produced and find our call for submissions for those who have experienced homelessness or vulnerable housing in the area here.
As part of the commission, Steve and I have both been drawing on our own experiences to produce material for the project.  Since deciding to take a break from the third novel to focus on Haunt, I've been surprised by how much I am writing and the range of material I've produced in response to the subject, especially given how busy I've been with the other aspects of the project.  I suppose this shows what an inspiring project it is.
Publications
I was incredibly excited to receive my copy of Hallelujah for Fifty Ft Women, the Raving Beauties anthology published by Bloodaxe this week and even more excited to see my poem Wolves on page 72.  I have long respected the work of Bloodaxe and can't tell you how wonderful it feels to be amongst some of the best contemporary poets in the country and part of a book, 'inspired by a passionate desire to celebrate our bodies in a fully realised way, leaving Barbie's grotesque silent pliability in her box for good'.  And what a dramatic and impressive title, well-suited to the nature of the Raving Beauties!  You can buy it from 23rd April.
Last weekend saw a trip to Nottingham for the launch of The Forgotten and The Fantastical.  The anthology is a collection of 'modern fables and ancient tales' published by Mother's Milk and includes a trilogy of my flash fiction, featuring the character Grief.  This was a series I wrote in 2007-9 and I'm delighted that the three are being published together, especially as a writer-friend of mine N.J. Ramsden has two stories in there.  I'm about 75% of the way through reading the book and every story is well-written and uniquely spun.  I highly recommend it.  With delicate illustrations throughout and context given by authors at the back, it truly is a beautiful book.  This is largely down to the professionalism and vision of the wonderful Teika Bellamy, editor of Mother's Milk.  The launch, at the fantastic Nottingham Writers' Studio, was one of the most pleasant I've been to.  Images and quotes from the book were projected onto the screen, there was cake and wine and time for conversation after the readings.  I came away with a sense of how strong and supportive the writing community in Nottingham is.  It was lovely to be part of that for a night.   This is me, Teika Bellamy and Lisa Shipman after the reading.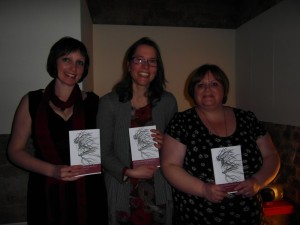 We had time to do one touristy thing before we left the city and one of the activities the leaflet by our hotel bed recommended was the tour of the caves.  Like many other people I've spoken to, my husband and I had no idea that Nottingham had 500-600 caves built into the sandstone beneath it, in which people lived and worked.  The tour, beginning in the unlikely place of a 1960s shopping centre, was lively, interactive and a fascinating insight into Nottingham's underworld.  With medieval tanneries, wells and secret meeting spaces, I was enthralled.
That magical weekend was followed by the annual Trinity University Writers' Festival for whom I delivered a magical-realist inspired writing workshop, Alchemising The Ordinary.  Some original, adept and intensely imaginative work was produced both in the morning and afternoon.  With around 46 participants in total during the day plus lots of other writers to fraternise with, it was a rewarding and busy day.
There was some other pleasant news from Mother's Milk this month too, when my poem Urchin was commended by Cathy Bryant in a Mother's Milk poetry competition.  She interpreted my poem differently than I had intended but her reading was just as interesting.  That's the thing with poems, you launch them into the world but you don't really know how or where they will land.  Here is what she had to say.
After a few months of making a concerted effort to place work in poetry magazines and journals, I have had a couple of meaningful successes.
The Basement is a poem inspired by my time in Harrogate as a teenager.  I wrote it after some friends bought a house that we used to party in when we were younger.  Now a family home for six people, I imagined the place had stood empty all the years between and the poem emerged. It will be published in New Walk Magazine Issue 10.
Another publication I'm delighted to be featured in this April is one of the longest-running poetry publication in history – Envoi, edited by Kay Syrad.  The poem is Christchurch, Ilkley, a poem about the place where Michelle Scally Clarke and I meet our Ilkley Young Writers each Monday.  I'm sure they will all recognise features of their surroundings and some of the events the poem touches upon.  As an aside that might be useful to new poets, I initially submitted the poem in a form with long lines, which was problematic for printing, and Kay sent it back to me so that I could do some hasty rejigging.  The same thing happened with Wolves and, as I am not a fan of part-lines hanging confusingly on the page, I have pledged not to send long-lined pieces unless they are to be published on screen or in A4 size publications.
Other Performances
Speaking of Ilkley Young Writers, Michelle and I are performing alongside them on 20th April at Barca Bar in Ilkley.  The bar is offering a bargain of 3 delicious tapas for £6 on the night.  The group will be the starters and main courses and Michelle and I will represent dessert.  Contact Barca to book your table and to confirm times.
Every year, the Leeds Lieder holds a Day of Song, which includes collaborations between poets and young composers.   I was lucky enough to be selected for the 2015 event and to be paired with Adam Sangster who is a very talented and articulate composer based in Huddersfield.  My job was to write a poem for Adam to turn into a song and the remit for the performance is piano and a voice.  I haven't yet heard what the composer has been working on but his thinking around the piece has been thorough and perceptive and the score looks beautiful.  He has even made a graph, which we looked at over coffee!  Book tickets for 25th April
Forthcoming Months
As you can see, I've had a good few months career-wise and have a lot to be excited about in the coming weeks and months.  Unfortunately I've had to cancel a few projects later in the spring/summer because I have to have major surgery.  I'm not ill as such but it does need to be done.  I was particularly sad to have to pull out of judging the Leeds Writers' Circle Poetry Competition, which I was so looking forward to, but am also finding not being allowed to run frustrating!  If I go quiet, you will know why.
One thing I will be looking forward to post-recovery is doing some more mentoring. It will be great to be on the other side of the desk again, particularly as the project is a very important one with human rights at its centre.  Look out for more about that later.
But, for now, after passing my first year of Italian evening classes, I am heading to Sorrento for a much-needed holiday and to practice my dubious speaking abilities, which are much better whilst asleep than awake.
Hope to see some of you at Words In Motion or elsewhere.  Buona Pasqua a tutti!