I'm starting with the novel because it definitely has been the primary focus this month.  Last month Skybound's word count was twenty five thousand words.  It is now at forty one thousand four hundred words and, considering what a hectic month I've had, I'm pleased with the progress.  However, due to financial constraints, I've had to cut my sabbatical short and am now back workshopping almost full time.   With regards to writing wise this a worry as the novel is a long way off completion but I am setting aside eight hours per week (in the first weeks of January I managed sixteen) to work on it and am determined not to lose my focus now I've found it.  (I'll keep blogging about it too.)
Also it's good to be back mixing with other artists and writers in workshop land.  I've returned to a favourite group – West Yorkshire Playhouse's Heydays – and we're having a great time creating narratives in poetry and prose.   There are lots of exciting things happening with Artlink West Yorkshire and The Hepworth Wakefield too.  This week saw my Burns Night workshop and I was delighted that every one of the participants performed their impressive first drafts that same evening as part of the Artwalk, which was hosted by Andrew McMillan – pretty admirable as some of them were first timers and they were performing alongside experienced performers Michelle Scally Clarke, Liz Venn, Peter Spafford and Okey Nzeulu.
The workshop drew inspiration from The David Roberts Collection and The Hepworth Hospital Drawings and I wrote and edited two of my own poems, one inspired by Barbara Hepworth and her surgeon friend Norman Capener and the other by the Roberts collection, in particular Man Ray's photograph Ady.  His portrait below is of Adrienne Fidelin who was the first black model to appear in a fashion magazine.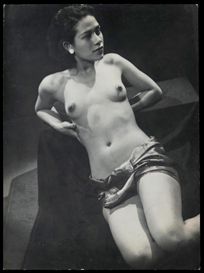 I sent both pieces off to competitions along with edited versions of the two I began in Belgium and another eight poems. Unfortunately, despite requests, I can't post them here because that would lead to disqualification but you'll be able to read them if they win something or when I find a publisher for the collection!
This week has been crazily busy because, in addition to lots  of workshops and meetings, I found out about The Northern Writers' Awards a few days before the deadline and worked all out to meet it.  As part of the application, I had to polish four thousand five hundred words of Skybound, twenty two poems and a synopsis for both projects.  This is part of my attempt to gain more paid writing work.  I know there will be some fierce competition but I've applied anyway, both for writing time for my novel and for the Waterhouse Poetry Award for my first poetry collection – contribution to either would be invaluable to me and my writing.
I've still found time for fun however, two highlights being attending the snow-bombed John Hegley and Julia Deakin performance at Heart in Headingley and a day of voice with the remarkable Maggi Stratford.  I can heartily recommend her for anyone who is interested in being more in touch with their voice and themselves.  She has just moved back to Leeds and runs evening courses and whole day sessions.  Get in touch with her at maggistratford@gmail.com for more info.
Speaking of voicing, I wasn't chosen to be one of the Northern Elements performers.  There are a lot of amazing poets and performers in the north so I had realised I would be up against some considerable talent and, as I have so many other things on, I wasn't too disappointed.  There was no feedback so I can only guess at why I was unsuccessful.  It could be that my performance profile wasn't high enough or it could be that I knew my work would be adaptable to a range of sites so didn't specify a particular venue, although I would have done if I'd realised the process was to be judged solely by staff from the venues.  Perhaps though they just didn't like the concept.  These things are very subjective and rejection really is something you learn as a writer to be philosophical about.   You can act on feedback and go back to an idea/piece time and time again but you can't control or predict people's responses to your work with a hundred percent accuracy. It's your job to make each piece as whole as you can, offer it up to the world and see what happens.  And there are always other places to try.  Applying for the Northern Elements project was a time-consuming process but it wasn't wasted as I now have an exciting and ambitious idea for a performance piece and/or pamphlet of poetry which I'm sure I will return to in future.
I also received a rejection from a magazine I really thought my work would fit in well with but the same week a phonecall brought me some good news, which I can't share yet.  Swings and…
Forthcoming Performance
I'm doing a fifteen minute set at Oporto on Tuesday 19th February for The Leeds Lock-in.  There will also be magic, jazz, stand-up comedy, singer-songwriters, monologues, free cakes, and all for £2!  It feels like ages since I've performed so it would be lovely to see some of you in the audience.  I'll do a mixture of old favourites and newer pieces and it sounds like it will be a fun night.
N.B.  I may be performing somewhere else too but will let you know when I receive confirmation.
Lastly, a big thank you for all your support.  It brings a smile to my face when I bump into people and they say they are enjoying these blogs.