And no, I'm not talking politics this time.
New year's resolutions have a bad reputation – those who make them are bound to renege on them and bounce back to bad habits with a lower self-esteem because they have failed. Not always. This year my resolutions have given me focus and allowed some rainbows to emerge on the polluted water that much of 2019 has been for me. As writers we often share our passions and successes online but few of the personal difficulties and there can be the impression that people are living lives full of glory. This is rarely the whole picture. It might surprise some of you who don't know me well in real life to learn that this year has contained a lot of sadness and difficulty. And that is why I'm so glad I set myself resolutions in the cold embers of 2018. Despite all the small-scale and large-scale challenges, despite our battered hearts we can make good things happen (whatever time of year it is).  Of course the brilliant thing about blogging your resolutions is that you are publicly accountable for those resolutions. The terrible thing about blogging your resolutions is that you are publicly accountable for those resolutions. I pledged to review my ten aims for the year so here goes:
Write a draft of a novel by the year end.
Having spent a total of 24 years on my first two novels, I am astounded that I managed to produce an entire draft of this one by December the 1st, earlier than my target date.
2. Seek publication. 
I may not have found a home for my second novel but I've found many welcoming spots for poems, most of which have been written for inclusion in my next poetry collection. Publications vary from Stand's ecopoetics issue to Celebrating Change to Mslexia to Whirlagust to the Places of Poetry map and Helen Thomas's Moon River on a Wakefield market hall wall. Then there were two poems published in the gorgeous embroidered Coast to Coast to Coast issues. It was a good year for me with regards to competitions too. One of my poems was a finalist in the Women's Poetry Competition and I had poetry shortlisted for the Bridport and longlisted for the National Poetry Competition and the Ginkgo Prize. Earlier in the year I had two poems longlisted in the Yaffle competition and one highly commended and The War Is Lost was a runner up in the Wirral Poetry Competition.
There were a handful of readings including DiVerse where the photo below was taken by Kev Howard and launches for the Valley Press Anthology of Prose Poetry which I mentioned on the 1st January. This deservedly made it into the Poetry Wales poets' top 40 for poetry books of the year, a testament to the brilliant hard work of editors Oz Harwick and Ann Caldwell.
I had some encouraging rejections (and no, I don't think that's an oxymoron) from respectable international publishers for short fiction and was delighted that my short story 'Fossils' was accepted for The Forgotten and The Fantastical and published alongside Angela Readman, Aliya Whiteley and Rosie Garland.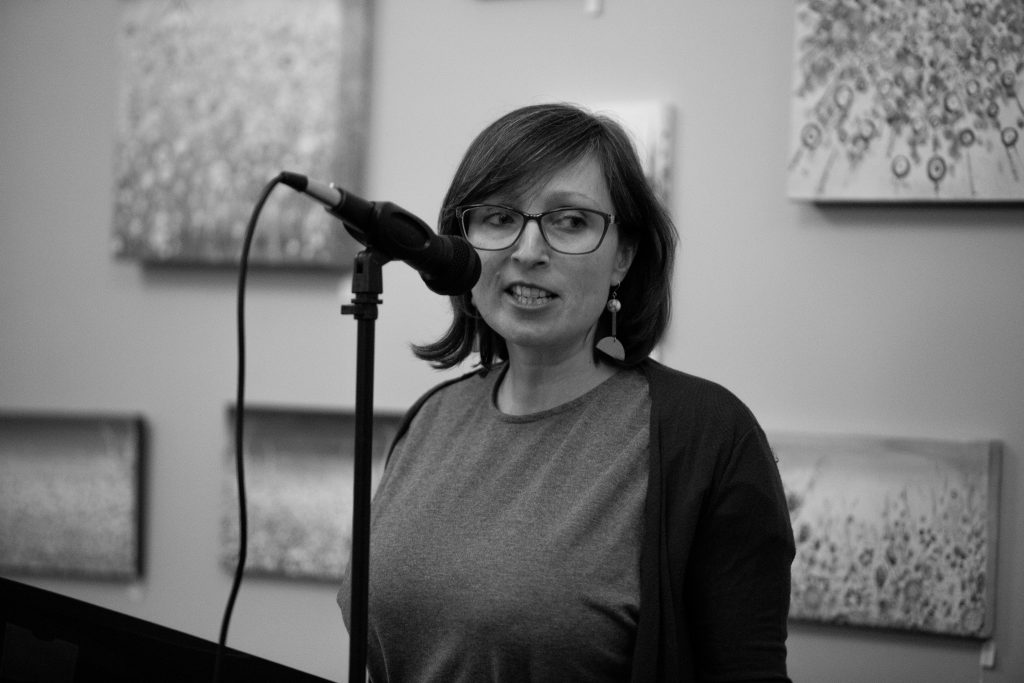 3. Continue to work on my next poetry pamphlet/collection.
This is ongoing and will definitely to be a full collection. More on this in future blogs.
4. I am sad to say that my fixed term community development contract with the LLC comes to an end on 1st March but I will be running further creative writing workshops with local communities until then. My big news this year was to be given a role teaching creative writing to BA students at the Leeds University LLC as well as co-managing the Creative Writing programme there.  It's a privilege to be there and I'm excited about the work that could be and is being accomplished there.
5. The Speaking to the Shelves workshops I curate at The Leeds Library have been excellent and varied and demonstrate the thirst for writing workshops in the city. We have four more excellent writers who have a wealth of things planned for you in the new year. Workshops run once in the morning and are repeated in the afternoon.
Jan 18th:  Matthew Hedley Stoppard with rendering place and time in poetry
Feb 1st: Char March  with writing for the ear
Feb 15th: S.J. Bradley with writing a novel
 Mar 21st: Matt Abbott with performing spoken word.
Last time I heard we were almost booked up but you may just be in time to reserve a place on my Writing the Night residential. This was postponed until March 7th to fit with the Leeds Lit Fest and allow more people to plan for a creative night of little sleep.
6. As mentioned in my last blog, I left the Ilkley and Bradford Young Writers this year with great sadness. I will still act as substitute if Michelle is unable to deliver on particular dates and I'm sure the writers and alumni will continue to do amazing things.  
7. The Artlink Working Together group finished their Minibus animation, which is here. Scroll down to On Our Minibus but check out some of the other fab audio-visual along the way. This was shown at Northern Dance and it was lovely that they were rewarded with laughs and smiles. We are now working on a different kind of film and have had the opportunity to do some partnership work with Mind The Gap. Another Artlink project that was incredibly rewarding this year was the third Ripon House project, this time with Musarat Raza. Two of the people who stayed at Ripon House after leaving prison (one of whom we worked closely with and whom I take great inspiration from) are doing a spoken word show about what prison is really like at The Holbeck in January. It will be unforgettable and is pay as you feel. All profits go to this brilliant charity which supports women and trans prison leavers.
8. Due to us being a collective of busy artists, Words on Skin didn't take off this year.
9. I was able to meet and/or re-engage with some brilliant people and engage with art and sculpture and the work of Michael Morpurgo at the one-off workshops I ran this year. There will be more in the next year, mostly for the same organisations. I've also continued mentored two writers and finished the year with a poetry commission which I'm interested in doing more of.
10. Project with Imove.
See 8.
I'm so grateful to all the partners, editors and collaborators who have helped make these things possible but I'm also proud of my own tenacity. Some of the difficulties have eased, some will continue and there will, I expect, be more soon. This is why, as well as approaching this next decade with optimism, I will be setting more resolutions to make sure good things happen in my work and otherwise. I hope you will too. After all the battered heart still beats.