Regular readers will have noticed that there has been a sizable gap in the weekly mothering blogs.  I can't really apologise as the reasons are mostly exciting professional ones but I can promise a piece on the topic of religious mother soon.  In the meantime I thought I'd fill you in on some of the things that have been happening, like the finger-chewing pitch I made to a panel of writers and publishers at Headingley Lit Fest.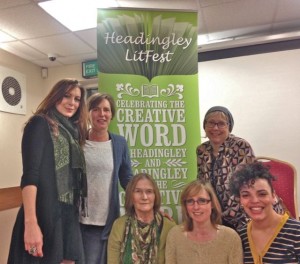 I didn't win but couldn't be happier that the panel invented a runners-up prize especially for me.  This was because Kevin Duffy at Blue Moose was keen to read and give feedback on my novel Skybound.  I hope to hear his first thoughts by the end of the month. Here is a photograph of me with the other winners and judges – Kevin dashed off before the photoshoot!
The next day, I took a trip to Camden to read my poem 'Urbanite' at the launch of The Best New British and Irish Poets anthology.  A lovely day and the book is a beauty, bursting with wonderful poems by poets who have pretty impressive publication records considering none of them yet have a full collection.
A new review of Echolocation is up on Angela Topping's website now.  I hope that if you haven't purchased a copy yet it might tempt you to do so.
The acclaimed Saboteur Awards are now open for nominations.  Yesterday someone was in touch to tell me that they have nominated Echolocation for the first pamphlet award and I know that Haunt has been nominated too.  What made my evening is that the person who nominated Echolocation is a well-known poet and not someone I know very well at all.  Of course more than one nomination is needed to get through to the next stage.
I always want people to vote with integrity but thought now was an opportune time to remind you of some of the amazing projects and publications I've been involved in over the last year : ) .  Those below are all eligible for the Saboteur Awards so please consider nominating one of them if you feel it is worthy.  You have to nominate in at least three categories for your vote to count and you only have until 24th April.  The next stage is the voting.    Below are the categories.  Follow this link to vote.
Best Collaborative Work
Haunt – an Imove project with writer Steve Toase, working with vulnerably-housed people in Harrogate
Harrogate is known for its past as a wealthy spa town, and still has a reputation as a genteel place of tea rooms and flower shows.
This is not the Harrogate of everyone. For some people this idealised history is a haunting presence in their lives. In the fabric of buildings where they live in one room, or the parks where they sleep.  Their experiences are muffled beneath the dominant voice of Harrogate.
Best Spoken Word Performer
There are many great performers that spring to mind but you could always consider me if you're stuck for ideas ; )
The Most Innovative Publisher
Mother's Milk Books – a small, family-run press that publishes high-quality, beautiful books for adults and children that normalize breastfeeding and celebrate femininity and empathy.  What could be more innovative than this as a remit?
From beautifully-written fantasy novel Oy Yew to collections of poetry, books on breastfeeding and their second anthology of adult fairytales, everything MM publish is beautifully-produced and well thought-out.
It was Mothers' Milk that published my pamphlet earlier this year.
Best Anthology
Blueshift – art that responds to poetry and poetry that responds to art, edited by Karen Dennison
My Dear Watson a poetry anthology with a poem about every one of the chemical elements on the periodic table, each written by a different poet, by The Beautiful Dragons and edited by Rebecca Bilkau
The Best New British and Irish Poets anthology, published by Eyewear.
Haunt – poetry, flash fiction and memoir written by people who have experienced homelessness or vulnerable housing in Harrogate.  Published by Imove, edited by Becky Cherriman with photos by Paul Floyd Blake. http://www.imovearts.co.uk/current-projects/haunt/
Best Spoken Word Regular Night
A Firm of Poets The People's Republic of Poetry produced by The Ossett Observer
Best Poetry Pamphlet
Becky Cherriman's Echolocation 
Best Wildcard
Words In Motion – poetry performance and poetry film nights run by poet Becky Cherriman and film maker Pru Fowler in Bristol and Leeds.  Both events were sold out.
Best Magazine
Enter your nominations here 
I'm spending the rest of the morning editing an anthology for The Mae Writers before shooting off for an interview this afternoon. Catch you soon.
Forthcoming Performances
21st April, 19.30-22.30 Book launch of Hannah Stone's Lodestone  with Hannah Stone and Gill Lambert at Bojangles Bar, New Market Street, SKipton BD23 2
29th April, 19.30, £4/£3 in advance, Quiet Compere Tour co-hosted by Winston Plowes with Greg White, Brendan McPartlan, Clare Shaw, Matthew Hedley Stoppard, Hannah Stone, Stu Freestone, David Jarman and Rose Condo