Since the number of workshops I'm running increased again, I've managed to stick to the pledged eight hours a week on Skybound, except that is for the week before last.  However, as last week was a week without workshops, I more than caught up then.  Without wanting to jinx it, I'm currently feeling excited about the process and have proved I can write without tea or coffee (apart from the occasional piece of chocolate, I've been caffeine free for seven weeks).
As my focus has been so heavily on Skybound, I haven't written much poetry at all.  I did, however, begin a couple of poems in  Julia Deakin's workshop at Trinity and All Saints Writers' Festival in  on the theme of technology, and later was inspired by someone I saw on the street to write some notes towards a poem.  I intend to return to them.
I have had a couple of poetic successes however.  I am delighted to announce that Neil Rollinson awarded my poem First Date a Highly Commended prize in The Yorkshire Open Poetry Competition , especially as the quality of the other placed work was so high.  Another exciting piece of news is that two of my poems Eucharist and That Room have been published in Versions of The North: Contemporary Yorkshire Poetry a collection edited by Ian Parks and published by Five Leaves Press.  It is launching on the 20th April and includes work from many inspiring local poets including Glyn Hughes, Julia Deakin, Pat Borthwick, Steve Ely, Gaia Holmes, Milner Place and Andrew McMillan.   
Other positives have included performing at two great Leeds nights: The Leeds Lock In at Oporto and The Chemic's Words on Tap.  Both nights were brilliant fun and brimming with great acts from a ukulele player and the most incredible live jazz I've ever heard at Oporto to some fabulous storytelling, fiction and poetry at Words on Tap.  The performance before that was at the beginning of November so I didn't know how I would feel about taking to the stage again.  I needn't have worried; the audiences were supportive and enthusiastic and even brave enough to join in with my first participatory poem for adults.  My favourite comment was one made by a young man at Oporto and overheard by a friend. 'I don't like poetry but she's really giving me something to think about.' And for me there was something very special about a room of, mainly, young men enthusiastically joining in with the refrain of a feminist poem!  I loved both nights immensely and am looking forward to the performances I will be involved in over the coming months all the more.
Here is a shot of me at Words on Tap taken by the fabulous host Matthew Hedley Stoppard.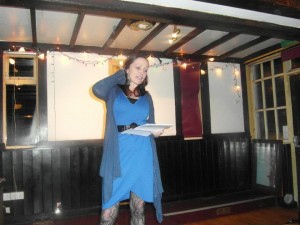 As ever, it hasn't all been highs.  A writer's residency position in mental health came up that I really wanted.  I had a lot of experience in all the areas – facilitation with that particular client group, mentoring and a lot of experience of writing about mental health and I was delighted to be given an interview.  However, it didn't go so well, partly because I found it hard to say much about my practice in relation to the questions but also because I hadn't attended an interview for over two years and was out of practice! The feedback was that I needed to 'beef myself up' more, which is probably true – I'm not so good at beefing!  I'm sure they gave the job to the most suitable person but, even from a selfish perspective, it's not all bad as it means the novel will be finished quicker than it otherwise would have.
It is so good to be working with people more again that I thought I'd share a little about what my participants have been up to.  Firstly, I am very proud of one of my mentored pupils who has finished his first novel and begun another, which is a massive achievement so do wish him luck with finding an agent. Secondly, the Ilkley Young Writers have been focussing on short stories with Michelle Scally Clarke and I, producing some of the best work we've seen from them.  The Heydays crowd were particularly fantastic last term too, their performance at West Yorkshire Playhouse's The Quarry Theatre evoking gasps, laughter and tears from the audience.  And in March I ran a Responses to War workshop for adults at The Hepworth Wakefield, which produced some beautiful 'sticky' poems amongst other things – it was great to welcome back some familiar faces back and be introduced to some more. That month also saw Barney George and I in Blackpool imagining and building what was named by the two groups as 'The Sunshine City' with people who live in Progress Housing accomodation.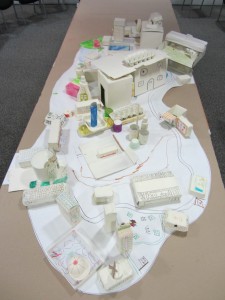 Looking forward, I've already run a couple of taster sessions with Milena Dragic for Artlink West Yorkshire and we have a full complement of 18 women for our project 'Conversations in Colour' that starts next week so we are really looking forward to that.  Things have also been bubbling away for The Mae Writers who will hold a reading of their work at Moortown Methodist Church on 23rd May at 2.30 pm – all welcome.
My social life has been particularly cultural over the last two months.  I've been to one of Maggi Stratford's wonderful voice workshops and several poetry nights.  I've seen Dr Faustus, Refugee Boy (stunning), and even enjoyed a musical.  It was also fantastic to see my friend Ben Tagoe's play The Thing About Psychopaths at The Carriageworks.  I particularly enjoyed the characterisation and the gritty prison scenes although the action was great too.
Forthcoming Performances
Versions of The North readings
7.30 pm on Saturday 20th April at Flux Gallery, 16a Midland Road, Hyde Park, Leeds: Cost: Free
7.30 pm on Friday 26th April at Beeston Library, Foster Avenue, Nottingham, NG9 1AE with Ian Parks, Steve Ely, and Elizabeth Barrett
Cost: £7.50/£5
7.30 pm on 31st July at Heart Cafe, Bennet Road, Headingley, LS6 3HN, Poetry By Heart
Cost: Free
The Leeds Big Bookend
7.45 pm on Tuesday 4th June at Santiagos in The Grand Arcade Leeds
Cost: £3 on door
Splash a creaking boat through a miscellany of stories, songs and poems of the sea. Featuring performances by Matt Bellwood, SJ Bradley, Becky Cherriman, Ian Pepper, and Mason Henry Summers, with sea shanties courtesy of The Leeds Loiners and We Died at Sea (organised by Fictions of Every Kind).
Forthcoming Open Workshops for Adults at The Hepworth Wakefield
Sun 21st April 10.30-4 
We will use the Tissot paintings and the photos of women working in the coal industry to create Victorian characters from the leisured and labouring classes and to write their testimonies. We will think about what we inherit from Victorian society and explore the gaps between representations of women and their truths, between experience and expectation both during the period and in the twenty first century.  There will be the opportunity to write both poetry and fiction in this stimulating workshop packed with practical creative writing activities.
Cost: £10
Weds 22nd May 10-12 or 1-3
For those new to exploring art through creative writing and performance, a taster session drawing on the Hepworth environment for inspiration at the bargain price of £3.
Sun 23rd June 10.30-4
Details to follow.
To book for any of my Hepworth workshops and for further information please contact the learning team on 01924 247398.
I don't want to bombard you with any more but if anyone wants any info on voice workshops with Maggi Stratford or WEA Creative Writing or Script Reading courses with Alison Taft let me know and I'll pass on the information.
Enjoy the spring, it appears to have finally arrived.