We are all drowning under the rush of organisations begging us to sign up to their newsletters before 25th May when data protection laws tighten up. Unfortunately I have to add to the deluge but as a sign of appreciation for loyal readers I'm running a little competition in which I will give away:
A copy of my pamphlet 'Echolocation' (Mother's Milk Books)
A copy of my poetry collection 'Empires of Clay' (Cinnamon Press)
A complete set of illustrated postcards including 'Wolves', 'Castrametation' and the 5 'Papilios of the Night' postcards.
I cannot stress how much I appreciate receiving email responses or blog comments or those times when I bump into someone and they say 'I really enjoyed reading about…' These little tidbits of feedback are very nourishing to a writer so whether you continue to subscribe or not THANK YOU for reading.
Those who wish to subscribe just email me at beckycherriman@gmail.com with the word SUBSCRIBE before the end of May and you will automatically be entered into the competition. I will only send links to my blog, which deals with writing news and reviews. I will never pass your details on to anyone else.   Remember if you do want to unsubscribe at any time just email me with the word UNSUBSCRIBE and I'll remove your email details from my records.
If you are only interested in seeing emails related to the Alice Cliff Scatcherd show simply email beckycherriman@gmail.com with the word ALICE.
I hope you are seeing some of this lovely sunshine. I'm recovering from surgery so the weather is particularly welcome as my short walks gradually lengthen and I make plans to return to work. This poem from 'Empires of Clay' reflects something of my optimistic mood.
Summer Fair
The day the doctor lifts his curse,
she emerges blinking,
swifting the future,
his pardon almost enough
to make her believe again
but it is the Kunekune pig
that seals her faith,
how it folds its ear like a Masonic secret,
buries its breath in the hay
then resurfaces revived.
It is not what is missing
but what is superfluous –
apples that gift
themselves to the ground,
the human capacity for song,
those beautiful, useless tufts
that hang from the sow's chin like bunting.
She wishes she was so small
she could swing from them
feel the heat of its glottal stop on her back.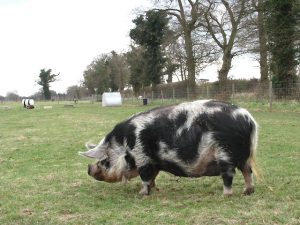 I'll be writing to those of you who are not sick of me with more fiction reviews and blogs including news on publications soon. If you're in Leeds this weekend I highly recommend Words In The City. There is much to entice including writers Jackie Hagan, Michelle Scally Clarke, Simon Armitage, Linton Kweisi Johnson, Kate Fox, Word Club writers and others. Book here.
Community groups I work with have spots at the festival on Saturday 12th May. All these events are free and there is no need to book. Support them if you can:
From 10.00, Café Bar, The Carriageworks – Migration – a spoken word and sand animation by Artlink Working Together group, inspired by the Windrush.
12.30, The Carriageworks Studio – The Abnormal Poets of Christchurch – scratch performance of a poetry play with song with Ilkley Young Writers and Michelle Scally Clarke.
Christchurch has been invaded by a money-hungry pair of dream-crushers intent on disbanding the writing group. Revolution, rebellion, protest, call it what you will. When poetry meets real estate Ilkley Young Writers fight to keep their group alive.
15.00, Room 700, Leeds Central Library – Bradford Young Writers perform.
Remember email me at beckycherriman@gmail.com with SUBSCRIBE if you want to see more blogs. If you haven't replied by the end of May I will remove your details from my list. I'll post COMPETITION RESULTS on my blog at the beginning of June.
Enjoy the rays.
With gratitude,
Becky Cherriman