So, I'm back and just about to head off on a writing residential with young writers and Michelle Scally Clarke at Lineham Farm for the Ilkley Literature Festival.
During my recovery, I have enjoyed indulging in reading magical realism and speculative fiction and have recently begun approaching agents again with regards to my novel Skybound.   I'm now allowed to swim again and last week even went night swimming under a full moon with a big group of people.  Fun like that makes me miss running a little less.
Writing-wise, I've been slowly chipping away at my novel but have only written two poems  – one about the surgery and another political poem.  Speaking of political poems, the week after my operation I had news that my poem Austerity was to be published at the Morning Star's website Well Versed  I was then approached by Russell Bennetts at Berfrois who wanted to include the poem in the free to download ebook Poets For Corbyn.  I know I may lose a few readers here but I think Corbyn is offering a real humanist alternative to the current political system and I'm honoured to be a part of that.   There are some incredible poems in here, including from Pascale Petit and Michael Rosen.  It's no surprise that more than 5000 people have downloaded it since its publication.  Best of luck to him in the forthcoming Labour elections.
The Haunt anthology has now been published and Steve Toase and I will soon be launching it with Imove and the participants.  You can read more of the work produced by people experiencing homelessness in Harrogate and by Steve and I at the website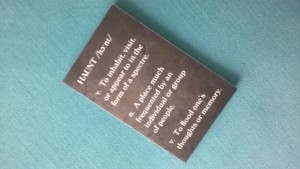 Big news since I last wrote is that Mother's Milk have agreed to publish my first pamphlet in early 2016.  This will deal with motherhood – primarily focussing on my varying experiences as a single parent, a woman with infertility problems and a prospective adoptive mum whose application was rejected.    Mother's Milk was set up to promote breast-feeding so I'm delighted that the pamphlet is going to such an appropriate home.  I know Teika Bellamy, the editor, will do a great job just as she did with The Forgotten and The Fantastical and the other books she has produced.   It also means I have two books coming out next year, which is incredible.
Other successes include my poem about the place we meet the Ilkley Young Writers Christchurch Ilkley, appearing in Issue 170 of Envoi, edited by Kay Syrad.  Grab a copy or subscribe here.  Also Blueshift, the continuation of editor-poet Karen Dennison's Book of Sand project, which is a relay of art and poetry, each piece of work inspiring the next in the sequence.  I loved both the painting I responded to and the one that my poem evoked by Sam Smith.  I'm grateful to my mentor Caroline Davies for telling me about the first book.  Do buy a copy.  You will not be disappointed.
Forthcoming Performances
8th October: Performing at 'Headingley Festival of Ideas', Headingley Library, Leeds alongside Helen Mort, Mark Connors, my one-time workshop participants Howard Benn and Linda Marshall, and others on National Poetry Day.
30th October: Guest Spot at wonderful local night, 'Word Club' at The Chemic, Leeds.
31st October: Helmsley Arts Centre with A Firm of Poets – super excited about these events!
28th November: Barnsley Civic Theatre with A Firm of Poets
I'll be looking for tour dates from February 2016- February 2017 and possibly beyond so do let me know if you want me to read/perform at any of your events.  I'm particularly interested in performing at festivals.
Interview
The mentor I had for my first novel Robert Endeacott interviewed me for his website.  It will be up here soon:  www.endeacott.com Robert is looking for other writers to interview so do get in touch if you're interested.
Hope to see some of you soon.  I'd better go and get ready to write with those amazing young people.