It is probably tautological to say that the life of a writer is punctuated by joys and disappointments. This summer there have been plenty of both – as you will judge from the length of this blog.
There have been more rejections by publishers and a project I've poured a lot of love and passion into was turned down for a grant after 18 months of slotting the pieces in place to make it happen. The hardest thing is always letting people down, those who have offered space or skills but especially the women who had signed up to participate in the project. It evidently wasn't the right time for the project but as you probably know I'm too tenacious to give up on something I believe in and I'm sure it will re-emerge in some form or another.
Fortunately, the joys are bountiful. Together with Michelle Scally Clarke, Sai Murray, Cherie Taylor Batiste, Ricky Venel Stone, Richard Bostock and Julie Easley I'm working on an exciting literature, spoken word and music show which explores experiences of living with particular skin colours (see below).
Publication-wise, I have a poem in Mythologies and one in online art and poetry journal Until The Stars Burn Out, which will be published in late September.
I also have had my first (three) poems accepted for The North and two poems, inspired by the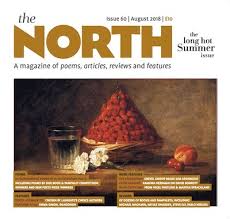 volunteering I did with refugees in Calais, in the transcultural journal Moving Worlds. The title of the issue is 'Women Write Now' and has been edited by Shirley Chew and Lucy Arnold.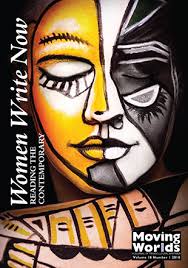 The launch will be held at Ilkley Literature Festival where I'll be involved in a panel discussion with Amina Alyal and Lucy Arnold (see below). The journal is a joint project between Nanyang Technological University and the University of Leeds.  When the poems 'The Game' and 'Trench Foot 2017' were accepted, I'd never have guessed I'd soon be starting a post at Leeds University.  More on my Creative Writing Community Development Officer post soon but if you live in Bramley or know anyone who might be interested, I'm running a couple of sessions there on 12th September. We are particularly looking to work with people who haven't been to university before. Get in touch with Poppy at Lifelong Learning on 0113 3433212 if you want more details.
I'm inhaling deep as we step into festival season. These are the main events I'm involved with that are open to the public. It would be lovely to see you at one or more of them. Do say hello.
Morley Arts Festival
Words and Deeds, Morley Arts Festival
Tuesday 2.10.18, 19:30-21:00, £5.83
To mark the 100 year anniversary of the women's vote, Becky Cherriman will talk about the suffragettes and their lesser-known older sisters – the suffragists. What role did collective and individual action play in helping women obtain the vote in Britain? Why was a fairer voting system so crucial to improving women's lives? Becky will discuss some of the dramatic acts and considered words of our female forebears with reference to local campaigners such as Alice Cliff Scatcherd, Leonora Cohen and Isabella Ford.
Ilkley Literature Festival

Words on Skin, Ilkley Literature Festival,
Friday 12.10.18, 19:30-20.30, Ilkley Playhouse, Wildman, £5
In the skins they wear, seven poets in their 40s walk the less travelled path to explore "the things that can't be said" (Kei Miller). In the wake of the Windrush scandal, Brexit, the refugee crisis and the hostile environment, Michelle Scally Clarke, Sai Murray, Becky Cherriman, Richard Bostock, Cherie Taylor Batiste, Ricky Venel Stone and Julie Easley speak truths about intersectionality and the effect of racism and the repercussions of colonialism on their lives. This show is a calling to reflect on the things that stain our skin. Through spoken word, contemporary thought, song, jazz, movement and percussion.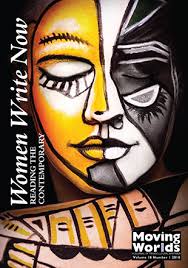 Women Talking, Women Writing, Ilkley Literature Festival
Sunday 14.10.18, 17.30-18.30, Church House, £7/£5 concessions
Celebrate the launch of the latest issue of Moving Worlds: A Journal of Transcultural Writings 'Women Write Now: Reading the Contemporary'. In this roundtable conversation, Leeds writers Amina Alyal and Becky Cherriman will discuss the intersections of writing, womanhood and the contemporary moment. How can women write back to crucial local and global issues? Join us for an enriching engagement with contemporary women's writing.
Moving Worlds Contemporary Women's Writing Showcase, in association with Moving Worlds: A Journal of Transcultural Writings and The University of Leeds
For those of you interested in what the next generation of Yorkshire writers are up to, consider coming to poetry play with song 'The Abnormal Writers of Christchurch', written and performed by The Ilkley Young Writers. The show premiered at Words In The City earlier this year and, rightly, there wasn't an empty seat in the house.  It's great to see the group getting the chance to showcase their skills in writing and performance and to work together on a full show.
Annabelle Fuller, one of our Ilkley Young Writers, won second prize in the Lancaster Writing Awards for her poem which she wrote for inclusion in the show. An alumni, Lizzi Hawkins, recently had recognition for her work, when she was selected for The Poetry Business New Poets Prize. Her gorgeous pamphlet 'Osteology' is available to buy here. As a workshop leader, there is little so rewarding as hearing about one of the writers you have worked with winning a prize or reading a poem in a book that you recall being penned in one of your workshops. Michelle Scally Clarke and I are very proud.
For a taste of young writers' poetry and fiction, you could also try Word Blend on 6.10.18, 20:15-21:00 in which members of Bradford Young Writers and Ilkley Young Writers take to the stage.
Open Workshops
People frequently ask when I'm running workshops that are open to the public rather than targeted to specific groups. I'm pleased to say that I have both a workshop and a course to offer.
Love Arts workshop, Artlink West Yorkshire,
8.10.18, 13:00-15:00, free
'Moving Poetry' will be led by artists Becky Cherriman and Kim Glassby. Expect listening, writing, movement, breathing and drawing as we explore the connections we make both physically and emotionally.
Book at Eventbrite.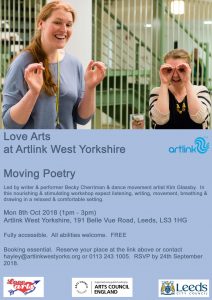 Write On Mexborough, September-March
Details tbc
From late September-March, I'll be running a poetry course for the Ted Hughes Project in Mexborough fortnightly on Tuesday evenings. There will also be a fiction course. Details to follow soon.
Bookings are currently being taken for the Ted Hughes Poetry festival which takes place 7th-9th September. This is an exciting and diverse programme of events in and around Mexborough, including readings and performances from acclaimed poets Moor Mother, Mike Garry and Kate Fox.
For now though, farewell. I'm about to go to the Young Writers summer residential with Michelle Scally Clarke. This is put on every year by the Ilkley Literature Festival and is an opportunity for young writers between the ages of 11 and 23 to spend three magical days immersed in writing. A highlight of our working year.