Morley Literature Festival Events
Although I've delivered very few workshops over the last month, I have been busy concocting plans for the Morley Literature Festival for which I am this year's commissioned poet.
I'm delighted because I have now received confirmation from all the selected poets that we have permission to use short extracts of their poetry in 'Word on the Street' and that many of them will read on our Trail tour (please see details below).  We chose pieces that fitted with certain locations in Morley picked out by visual artist Bryony Pritchard.  Our selections were based on various Morley-related themes such as mills, mining, walking, shopping and play.  Depending on whether the council says yes to us installing the works in the chosen locations, we will be including the work of six Leeds-based poets and five non Leeds-based poets.  Once the council gives the go-ahead, I'll reveal who the poets are.  But do we have some lexical and visual delights for you! Here is a slightly cryptic clue to the installation.

Commissioned Poem
As part of my role, I have been commissioned to write a poem for the festival.  Some of the material for this will be crowd-sourced so if you want to be involved, please note down a few words about a person, place, object or memory that you value in fewer than 20 words (or 140 characters if on Twitter) and pop it in a festival word bucket in the library or town hall or tweet it to @morleylitfest.  This could be anything from 'My funny Aunt Freda' to 'the hills and dips of the skatepark' to 'In Reception his self-portrait was the one with the biggest grin' to 'humming bees amidst lilac bushes.'  And come along to the poetry and music night 'Poetry at The Altar' on 11th October to see if any of your words have made it into the finished poem!
In addition to Word on the Street and the commissioned poem there is a wide range of other events for poetry lovers of all ages so see below and pick and mix whatever takes your fancy.   Below are the events I'm involved with but there are more on the festival website.  See here for how to book:
Word On The Street, Saturday 28th September- Sunday 13th October, Morley Town Centre, Free
Something unusual's about to happen, as poet Becky Cherriman and visual artist Bryony Pritchard lift favourite poems off the page and remix them onto the streets of Morley, its shops and public buildings.  During the Festival, follow a trail of playful word art as Word on the Street takes shape around you. Word on the Street is yours to discover throughout the Festival.  You will also be able to see the full poems and visual interpretations online here soon
Word on The Street Trail Tour, 2.30-3.30 pm (approximate finish time) on Saturday 5th October beginning at Morley Town Hall Steps, Free
Join Becky and Bryony for a walking tour of the Word on the Street trail with en-route performances from trail poets and find poetry in unexpected places.  Line-up tbc.
Written In The Skies, family drop-in workshop, 12.30-3.00 pm on Sunday 6th October, Morley Library, Free (no need to book)
Join us for a playful afternoon's sky gazing and poetry creating for all the family at Morley Library. Led by poet Becky Cherriman and artist Bryony Pritchard, use our collection of binoculars, periscopes and mirrors to look a little closer at the world; let your imaginations loose on meteorites, spaceships, city skylines and fantasy worlds; create your own family or individual poem inspired by the sights and sounds around you, and tweet your best poetry lines and photos to our Sky Museum.
Drop in at any point during the afternoon to take part. Ideal for children aged 4 years or older.
Circa Presents Pecha Kucha, 7.30-8.30 pm on Monday 7th October, Morley Library, £4
An insight into the mind of other writers using the Pecha Kucha rapid slide-show format that gets to the point fast and covers a range of perspectives through informal lectures. Led by graduates from the Yorkshire Art Circus Writer Development Programme, Circa, Alison Taft, N.J. Ramsden, Becky Cherriman, Helen Crawford, Liz McPherson and K.T. Jukes will each present 20 slides lasting 20 seconds, conveying their experiences of writing.  Introduced by the Mark Ruston band.
The joy of Pecha Kucha is learning things you didn't expect, but amongst the surprises you'll hear the Circa writers talk about performing poetry, setting a story, channelling anger into novel-writing, and the challenges of conveying your family in poetry. This high speed, entertaining approach started in Tokyo in 2005 and has spread across the world.
The Art of Poetry, Adult Workshop, 2.00-4.00 pm on Friday 11th October, Morley Library, £10
A poetry workshop for adults that welcomes beginners and more experienced writers. Taking inspiration from visual art, photography and pictures, including the architecture of Morley Library itself, Becky Cherriman's workshop will look at the ugly and the beautiful to trigger new ideas and subjects for writers. Come and share the work you create with experienced poet Becky and get feedback from the group, with a chance to perform your poem at the Poetry& Music Night that evening.
Bring writing materials and something human-made and visual that interests you or that you have a relationship to.
Tickets to the workshop include free entry to the Poetry & Music Night at St Peter's Church, 7.30pm.
Poetry and music night, Poetry At The Altar compered by young writer, David Lawton featuring Scriptophilia, Ralph Dartford, Becky Cherriman and open mic performers, 7.30 pm on Friday 11th October, St Peter's Church, Morley, £4.
Morley Literature Festival is a platform for local talent and we hope emerging and established writers will take to the stage for a night involving poetry, music, word-games, poetic play and open mic.  A place for writers and performers to experiment, rehearse, and entertain others; featuring poetry set to music by Scriptophilia and performances by Ralph Dartford and Becky Cherriman including the premiere of the new crowd-sourced poem commissioned for this year's Festival.  Expect adventurous, playful entertainment to watch and enjoy, or to put on your CV.
If you'd like to perform something on the theme of art, contact Becky Cherriman on 07792 266816 or email write@beckycherriman.com
Writing Progress
Since July, I've made a submission to The Manchester Poetry Prize and written three poems, one inspired by a current obsession with wells (let's thank Murukami for that), one by R.H. Quaytman's Spine which was on display in Tate St Ives and one sparked off by a pig we encountered during the Ilkley Literature Festival Young People's residential.  Script writer Ben Tagoe's workshop and the location also prompted the creation of a farmer character who I will return to, either in fiction or script form.  His voice is very clear in my head (the farmer's not Ben's) and I'm very interested to see what he can do.
Whilst having an incredibly relaxing few days in St Ives, spiritual home of Barbara Hepworth, I received an email to say I haven't been placed in the Mslexia Single Poem competition.  I was disappointed because I'd submitted two of what I considered to be my best poems.  Yet at the Versions of the North reading on 31st July, my poem 'Eucharist' went down particularly well, which surprised me as it is one of my less complex pieces and I was reading to a very literary audience.  It just goes to show that you are not always the best judge of your own work so thanks to Ian Parks for spotting its potential.  The room was full that night and there were some wonderful readings from Linda Marshall, Ed Reiss, Steve Ely, Ian Parks and Andrew Oldham.   Here's a pic of me reading from the anthology.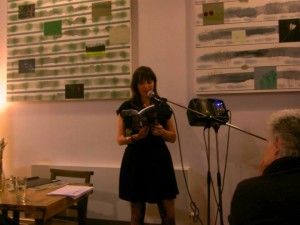 Over the last month, I've completed another quick edit of Skybound and two more edits of the first fifty pages and have sent an extract off to the Mslexia Women's Novel Competition.  I've also compiled a list of ten agents who I think might be interested and am hoping to approach five of them next week.  I've decided to make a multiple submission as I learnt from my experience with my first as-yet-unpublished novel Yellow Brick Roads that it can be a long process – agents are very busy and it can take months to receive a response.   I wrote my synopsis in December and the novel has changed since then so I'm intending to relook at that this week.  I've already drafted a template of a letter (it only took five hours!) but will personalise that for different agents as there are specific reasons I am approaching each one. Wish me luck and I hope to see a lot of you at the festival!
Recent Workshops
I often mention one-off projects in these blogs but this time I'd like to highlight one of the more regular pieces of work I do for Mae Care.  The Mae Writers are a group of  55- 90+ year olds who meet weekly from mid-August until the end of May each year.  I run the session every other week and a capable and committed ex-teacher volunteer leads it on alternate weeks.  In May the group delivered a performance to friends and family that included movement and group pieces as well as more traditional readings and was a big success.   This term I asked them to come back having researched and attempted a form of poetry.  They came equipped with sonnets, haikus, villanelles and concrete poetry.  Then they swapped, teaching one another the forms they had familiarised themselves with.  Last week after sharing their poems, they wrote tankas.  They would have been too daunted to attempt this task a year ago (and understandably so).  It is a great joy to see what a long way they have come.
The same goes for the Ilkley Young Writers, many of whom were at Lineham Farm with us last weekend.  Michelle Scally Clarke and I were the writers in residence for Ilkley Literature Festival for the second year in a row.  We played writing games, worked up poems and prose, and explored the area with 27 people between the ages of 12 and 18.  The weekend featured a cabaret night where they performed the pieces penned over the weekend, a writers' surgery, workshops from visiting tutors Ben Tagoe and Alison Taft and the birth of 13 piglets… Because of the incredible talent, mutual-support and general loveliness of the young people, it was possibly my favourite ever working weekend.  Contrary to what The News suggests, there is much hope for the future!
Forthcoming Workshops for Love Arts Festival
In connection with Mae Care and Love Arts Festival, I'm running an open workshop for older adults on the afternoon of Thursday 10th October at Carriageworks Theatre.  'In this relaxed creative writing workshop, participants will draw on their own experience and their imaginations to take a creative journey through the emotions. The session will take place in a warm and supportive atmosphere and will include a guided writing activity, discussion and feedback on writing produced during the session. There will be an opportunity to read work out to others afterwards.'
Please contact Mae Care on 0113 266 0371 to book a place and for further details.
'Flavours of Artlink' will be held on 15th October between 1-3pm at Artlink West Yorkshire.  This free taster workshop for adults will give people an opportunity to play with ideas around change using visual art and creative writing and organic and unusual materials.  Helping with your exploration will be artists Bryony Pritchard and Becky Cherriman.
Please sign up early, as places are limited, by emailing  sylvie@artlinkwestyorks.org by 1st October. Tel 0113 243 1005.
I'd appreciate it if you could spread the word on any of the above to anyone you think might be interested!