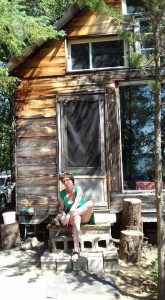 I emerge from a summer of white water rafting, whale watching in Vancouver, scooter riding through the streets of Montreal and off-the-grid bear evading to the end of one commission and the beginning of another.
This trip of a lifetime was a grand farewell to my son who happily went to university last weekend to study his dual honours course of choice.   It also allowed us to stop off in Iceland (flights cheaper that way) and experience that tranquil country for the first time.  My burgeoning interest in wild swimming was thoroughly indulged, from completing the watery leg of the Roundhay triathlon in early June for charity to fast lengths of one of Iceland's incredible public pools to jumping off a small cliff into the Ottawa River and swimming multiple lakes, rivers and three seas.  I know – lucky lucky woman.  As usual, there are some fairly large dramas going on in my life but, since balancing my medication out after my thyroid operation in December, I am healthier than I've ever been and I can't tell you how wonderful that feels.
Altofts Festival In A Day
I've been working hard on Altofts Festival In A Day along with Beam and Friends of Altofts Library.  We have so many amazing acts and events planned – from Kate Fox to A Firm of Poets to Craig Bradley and Jimmy Andrex to local musicians and school children to a chance to walk the plank!
Then there is the Treasured Stories commission.  To research the poems, I've been speaking to community groups and members about themselves and the old mining town where they live as well as looking into its history.  Then I've crafted the poems.  Often this has simply involved rearranging the words of the community into something whole.   Incongruous as it sounds, it was apt to be writing poems about Altofts in Canada as explorer and legal pirate Martin Frobisher, their most famous inhabitant (hence the plank) landed there during his search for the Northwest Passage in the Sixteenth Century.  He is the subject of one of the poems but there are so many other remarkable stories to be found in this treasure chest of a Wakefield village (or town as it is seen).  Book onto the trail  on the 24th to share the loot or wait for the audio to be released and walk the route yourself.  In the meantime, here's an extract from one of the poems.
'Round the back of St Mary's – the paths to the mines,
where unsleeved men hauled pickaxe and snap, their wives
left behind stoking hearth and heart.'
From Poem for Altofts
It's all free but make sure you book your tickets in advance to avoid disappointment.
In the build-up to the festival, we are running a discussion and writing workshop inspired by Altofts' history this Saturday (17th).   I'll be co-leading with Normy poet Jimmy Andrex and local history expert John Hodgkins.  All are welcome.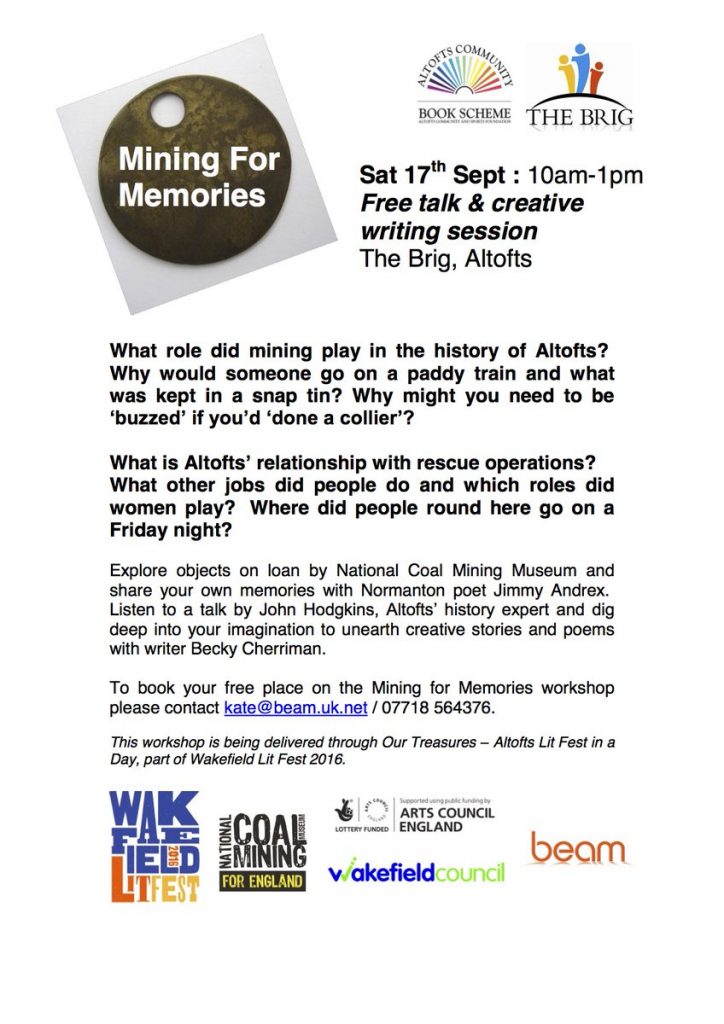 Haunt
'Really blown away by Haunt – powerful piece of immersive theatre about homelessness and Harrogate.'
'The physical performances really brought it to life. 'There was so much there.  So much to think about.'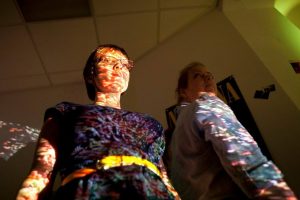 Above are two comments about the site-specific show that was on as part of Harrogate Theatre's Two's Company series in June and July.  Here I am with physical performer Zoe Parker looking dazed as I emerge from the past (and a tent/chrysalis) into the present.  Visuals are by Al Orange.
It was great to meet with Imove's Tessa Gordziejko and lead artist Steve Toase this lunchtime to discuss what might happen next with the project.  We are making plans so more news to come.
Alice In Bloomers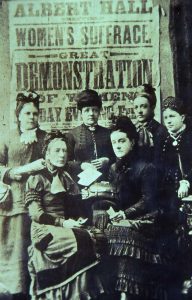 Campaigner for women's suffrage
Friend of weavers and miners
Educator of working women
Wife of Morley Mayor Oliver Scatcherd
Traveller
Fashion connoisseur
People who have read 'In Bloom', the poem commissioned by Morley Literature Festival in 2013 may remember its reference to suffragist Alice Cliff Scatcherd (1842-1906) who once lived in Morley Hall with her husband Oliver Scatcherd, Mayor of Morley.  I am overjoyed to announce that I have been awarded a Grants for The Arts grant and a Leeds Inspired grant to research and develop a one woman show inspired by Alice alongside costumier Allana Marsh and designer and maker of clothes for working women, Gill Thewlis http://www.yuww.co.uk/.
Morley Library have Alice Cliff Scatcherd's restored scrapbook in their collection and are very supportive of the project as are Leeds Central Library who will be linking our work to the Sanderson collection.
The show will eventually be produced by Jenny Harris and directed by Ray Brown but for now I'm inviting people to be involved by finding out more about Alice, contributing their ideas to the process and writing about what it means to be a modern woman.  I hope people will be as inspired by Alice as I am. There are details below of pay-as-you-feel workshops which will take place on 4th October as part of Morley Arts Festival.
Tuesday 4th October, Morley Library
10am-12pm Drop in to view the Alice Cliff Scatcherd scrapbook and Victorian costume designs she has inspired.  Bring your knowledge of Morley, photographs of the period and/or an enquiring mind.
1-3.30pm Write about real and fictional women in a creative writing workshop that uses Alice's life as a starting point.
Both workshops are run as part of Morley Arts Festival and are pay-as-you-feel.
Monday 17th October-Friday 22nd October, Morley Library
1-2 pm Visit me during my week as writer in residence to see how work on the show is progressing and have your say.
I'll be blogging much more about Alice in the forthcoming months but if you want to be in the loop about all that is Alice related, please send an email to beckycherriman@googlemail.com and I'll add you to the list.  We also have a Facebook page.
Forthcoming Readings/Performances
Weds 21st September, 19:00 – Unity Words, Wakefield  with Hollie McNish and Fran Smith for Word Life anthology launch as part of Wakefield Lit Fest (pay-as-you-feel)
Saturday 24th September, 13:00-14:30 – Altofts Festival In A Day, commissioned Treasured Stories Trail (free)
Tuesday 8th November, 19:00 – Empires of Clay poetry collection launch at The Leeds Library, 18 Commercial Street, Leeds LS1 6AL with Leeds Big Bookend
Friday 25th November – 19:30 Word Club Special with Kate Fox, Antony Dunn and Tom Weir (£8)
N.B. More launch dates and details to follow.