I said my first reviews would be of novels written by women. That was until I saw Medusa, poet Helen Mort's first full length theatre piece, at The Carriageworks in Leeds on Halloween night. Having long been an admirer of Helen's, I knew the writing would be accomplished but was interested to see how she would tackle the theatrical form.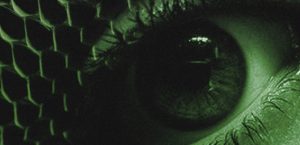 She does so in a show that blends song and projected visuals, acting, music and poetry. Medusa is a dialogue between Greek myth and the modern day, between religious fundamentalism in the USA and a fractured technological society with rape culture at its core. At the beginning of the play, disorientated by all the different elements, I was curious as to how this could all fit together. But then isn't the world we live in a disjointed one that layers patriarchies of the past with those of the present, myth with reality?
Disconnection is a key theme, the play depicting rifts between men and women, women and other women, fathers and sons, religious fundamentalists and 'sinners'. These dividing lines are visualised in the set's multiple boxes, sometimes with boxes isolating characters inside them or gridding them in the shadows of light projections. Reminiscent of Francis Bacon's boxed figures, these devices conjure the multiple ways in which we are caged by society.
Beard's seminal article Women In Power tackles the Republican campaign in which Clinton was portrayed as a decapitated Medusa's head in the hands of Trump. Throughout the play, Medusa's head haunts the narrative, bringing with it all the associations of patriarchal domination and misogyny it has acquired since the time of the Ancient Greeks.
The protagonist is Medusa as a young woman. Played by Elizabeth Harborne, her acting and singing is compelling and exquisite. More importantly, given the subject matter, it is authentic.
The show, which was produced by Proper Job, premiered the week the Weinstein scandal broke. And Rick Ferguson's Poseidon is a white, middle-aged, middle-class trident of that director, the Greek god, and Trump. Part of the horror of this Poseidon is his persistent laugh, persistent like a pneumatic cough, persistent as a sex pest (I have long-loathed the conformist rape and paedophile jokes that seem part of almost every comedian's repertoire these days). The laugh and the character's aggrandised sense of entitlement to his own despicable actions make him the most detestable stage villain I've seen. As with all Greek mythical figures and the aforementioned men, he is larger than life. But in a world that has Poseidon's code for living at its core, his behaviour is acceptable. Worse, he is not some pantomime anti-hero; he is the centre-stage, real-life holder of power.  At the end of that pronged fork is Medusa and, by implication, all women.
Yet who is there to turn to? In Medusa, women don't behave well either, especially not when wronged or when in positions of power. How little there is in the way of sisterliness when, as instruments of the patriarchal state, the judge and doctor compound Medusa's sufferings in their memorable and horrific treatment of her.
As a poet who achieved success at a young age, Mort knows well how it feels to be a woman in the public eye. Here this role is taken both by the infamous Medusa and a young poet. The audience shift uncomfortably as the poet tries to please, editing her poem out loud even as she discloses details of her rape – 'I know you think rhymes are childish.'
Mort, like others, has reduced her presence on social media. The danger of technology to our quality of life is a recurring theme, most memorably with the seamlessly-choreographed scene in which actors pace the stage mechanically, heads bent to their phones. This is picked up in the minimalist live soundtrack that is played on keyboards by actors from the edges of the set. Its electronic sounds remind us of the computer and phone sounds that form a backdrop to all our lives, interplaying with the operatic tragedy of Medusa's story in surprising ways.
Instead of symbolic representations of some of the more commonplace horrors of today – from the way rape victims are questioned in courtrooms to masturbation over internet porn, these are presented to the audience with a realism that is truly chilling. Having that afternoon experienced an enthusiastic internal examination by a doctor, albeit in very different circumstances, the enactment of Medusa's medical examination, which will be familiar to every woman, on that day struck a painful chord. And in the time of the #metoo movement, graphic realism seems apt. There is a directness to the piece that is often missing in more traditional theatre – perhaps helped by the intimate venue of The Carriageworks.
As you might expect from Mort, she writes with subtlety too. The relationship between the present day couple initially seems idyllic – full of laughter and romance but it quickly sours. The two men I spoke to at the interval thought the couple, who had just been introduced to the action, represented a happy contrast with Medusa and Poseidon. I immediately saw them as a milder example of the same phenomenon – the negation of a woman and her needs. 'You don't know what you do to me,' the male says as he restrains his partner in their shared bed. I was shocked and saddened that my usually sensitive male companions didn't see the implied trajectory of this as she decided giving in was her best course of action.
'Don't look at me' is a refrain heard throughout the play by victims. We all know what happens when we look into the face of Medusa. Men also don't want to be looked at while they behave abominably. Until recently we, as a society, have obliged by looking only when our heads are forced in the direction of particular cases of abuse. No longer.
I sat with an intense anger through most of this play. Yes, I was angry about what the female characters were going through, angry that so few people see the smaller crimes that can build up and erode the strength and autonomy of a woman. I was angry at what women do to one another. Mostly I was angry at what has been done to me personally and to other women, particularly those with less privilege, by individual men and by patriarchy. It was an anger so powerful, I wondered (like Uma Thurman) if I had the means to contain it in words. And watching what is happening globally, it seems the mass anger of women has been unlocked.
The play finished to two rounds of applause and the audience sat for a while with the difficult ending, some perhaps having desired something more hopeful. We are not there yet; Medusa is a more tragic but truer reflection of our time. Women have been seething for centuries but they are now beginning to acknowledge their wounds in legion. And out of a gyrating mass of snakes, new generations are born. May they remake the world in a kinder light.
MEDUSA
Devised by Proper Job Theatre Company and Helen Mort
Written by Helen Mort
Creative Team
James Beale – Director
Helen Mort – Writer
Laura Davies – Designer
Kelli Zezulka ​- Lighting Designer​
Cast
Tim Cunningham
Rick Ferguson
Elizabeth Harborne
Gemma Hunt   ​
Brendan Weakliam