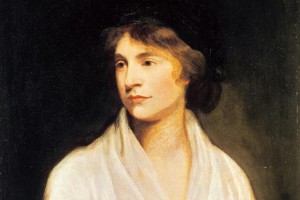 In anticipation of the launch of my first, motherhood-themed, pamphlet Echolocation, I have decided to honour mothers by blogging about an inspiring mother each week.  Some will be birth mothers, others adoptive, some infamous, others celebrated.  As a personal challenge, I'm going to try to link each mother to an extract from my pamphlet.
I hope you enjoy the posts.  Feel free to leave a comment about a mother who has inspired you.
Mary Woolstonecraft (April 27, 1759, – 1797).
Woolstonecraft was the 18th Century author of works that sought female equality such as A Vindication of The Rights of Woman,  and Maria, or the Wrongs of Woman.  She was also mother of Fanny Imlay and a woman the literary world would not have done without, Mary Shelley.
I first came across Woolstonecraft while reading for my English BA at The University of Leeds and was immediately  awed by her as an 18th Century self-made woman and champion of female education, sexual desire.  Realising that her father, by all accounts an 18th Century middle-class Del Boy with an added penchant for domestic violence, was not going to come good in supporting her or her sister, she set up a school with her friend Fanny.  When Fanny died, she tried and failed to be a domestic governess, an experience that left her 'shut out from society'.
Becoming a translator and advisor to radical writer Joseph Johnson, she found greater intellectual freedom, attending suppers with guests such as Henry Fuseli, Joseph Priestley and William Godwin, who would later become her partner and the father of Mary Shelley.  Now that is a dinner party  I would like to be invited to!  There followed doomed relationships with artist-philosopher Fuseli, whom she wanted to live with along with his wife – not a popular suggestion – and  a love affair with Gilbert Imlay.  She went with Imlay to France during the French Revolution, in the midst of which she gave birth to their daughter, Fanny.
It was her A Short Residence in Sweden, Norway and Denmark that inspired me to visit the Sweden she described so enticingly :
Little woods filled up the recesses, when forests did not darken the scene; and vallies and glens, cleared of the trees, displayed a dazzling verdure which contrasted with the gloom of the shading pines.  The eye stole into many a covert where tranquility seemed to have taken up her abode, and the number of little lakes that continually presented themselves added to the peaceful composure of the scenery.  (Letter Five)
Although it has to be said that my flight was somewhat easier than Woolstonecraft's 'eleven days of weariness on board a vessel not intended for the accommodation of passengers' – I wasn't flying Ryanair (Letter One).
But it is her political texts that are most important to us.  Woolstonecraft believed that education was essential for good mothering,  'a woman must have sense, and that independence of mind which few women possess who are taught to depend entirely on their husbands.'   A Vindication of the Rights of Woman is, 'quite rightly regarded as the founding feminist text in English,' Gubar states.  Yet some feminists believe the writer's views are compromised by the bourgeois ideology she expounded, particularly her focus on the importance of motherhood to the role of a woman.  Yet, as a working woman who chose to give birth to an illegitimate child, who campaigned strongly for the rights of all to a free and equal education and who 'asserted that women had strong sexual desires and that it was degrading and immoral to pretend otherwise' was centuries ahead of her time in the fight for equality
I'm going to end this first post with a nod to Woolstonecraft's children.  In The Importance of Being Earnest, Oscar Wilde writes, 'All women become like their mothers. That is their tragedy'.  Like her mother, Fanny Imlay attempted suicide.  Unlike her mother, who died of post-childbirth septicemia, Fanny succeeded.   Could Woolstonecraft have guessed when she looked into three-year-old Fanny's eyes that this would be her fate?  Could she have guessed that her other daughter would birth such a monstrously good classic as Frankenstein or did she, as I once did with my son, note what was frightening about herself?
For the first time I look not into his eyes
but at their surface. I see my flaws distorted there;
it is as though this is the first accurate mirror
I've come across
and I am older and uglier than I thought,
twisted up like plaited bread or a corroded school gate,
stretched to such an extent that I take up
almost the whole of his eyeball.
(Becky Cherriman, 'All Princes Were Monsters Once', Echolocation)
Sources
Mary Woolstonecraft, A Vindication of The Rights of Woman (1792)
Mary Woolstonecraft, Maria: or, the Wrongs of Woman (1788)
http://www.brainyquote.com/quotes/authors/m/mary_wollstonecraft.html#8c2hUPh8qISvAHOk.99
https://muse.jhu.edu/login?auth=0&type=summary&url=/journals/wsq/v037/37.2.ford.html).
http://www.biography.com/people/mary-wollstonecraft-9535967)
Oscar Wilde, The Importance of Being Earnest (1895)
Becky Cherriman, Echolocation, (Mother's Milk, 2016)