Recently Twitter user Daurie has been highlighting the way women are written about by tweeting about famous men in terms of their familial status:
Pierre Curie, married and proud father of two, found time for love and family during his short scientific career.
This week's blog is about Marie Curie, married mother of two who, after wedding bells and popping one out, also happened to discover radium and polonium.
I'm partly poking fun at myself there.  With a forthcoming pamphlet on the theme of mothering, I am writing about these women because mothering was or is part of their lives.  But I hope that readers have noticed that I'm not writing about these women because of how they mothered – Margaret Garner being the exception to this.  In terms of these women's impact on the wider world, their status as mothers is unimportant, although as with every formative experience, it will doubtless have coloured their achievements:
I am among those who think that science has great beauty. A scientist in his laboratory is not only a technician; he is also a child placed before natural phenomena which impress him like a fairy tale. We should not allow it to be believed that all scientific progress can be reduced to mechanism, machines, gearings, even though such machinery also has its own beauty.
(Marie Curie)
Like Curie I am awe-struck by natural phenomena, as described in my poem 'Ultrasonics':
Every so often a cloud manifests above Mount Fuji
in the perfect shape of a conical hat or sugegasa,
every so often an evolutionary mutation creates a new species
or two dominant follicles are produced
– one from each ovary.
(Becky Cherriman, 'Ultrasonics', Echolocation)
It is possible that Curie's mothering deepened her appreciation of science but she would have been a great scientist regardless.  After all, she had her first child the same year she and husband Pierre discovered both Polonium (named for her homeland of Poland) and Radium.
No, this blog series is not about extraordinary mothers.  It is about extraordinary women who also happen to be mothers in one way or another.
Marie Curie is one of the few women of science to be credited for her achievements –  she was the first woman to win a Nobel Prize and later went on to win another one, this time for Chemistry.   Ultimately she would be the first woman to be buried alongside other respected figures in the Panthéon mausoleum in France.  But, like many women of her era, she had to deal with many arsey, jealous, male scientists and was paid a pittance.   The criticism she received has been compared to that doled out by the internet trolls of today.  One particularly condescending example of mansplaining was when Lord Kelvin wrote to The Times to say Curie's 'radium' was a 'helium compound'.  She proved him wrong and she did have some worthy supporters, including Albert Einstein.
Curie and her seventeen year-old daughter Irene took their mobile x-ray machines to the front during the First World War (little Curies), enabling surgeons to locate shrapnel and bullets inside the bodies of soldiers.   In total over one million x-rays were performed during the First World War.
Curie's discoveries in the field of radiotherapy have led to the saving of thousands of lives since, a fact celebrated by a cancer care charity who take their name from her.  And yet she was ill for years and finally gave her life for her research, dying in 1934 of aplastic anaemia caused by radiation exposure.  Her daughter Irène, who later won a Nobel along with her husband for discovering artificial radiation, met her own death from leukaemia, which was also caused by her work.  Her other daughter Eve was a writer and journalist who was to pen her mother's biography.
It is remarkable to think that Curie achieved such incredible things despite the ties of time involved with child-rearing, and the losses she suffered.   These included the death of her mother and sister as a child and of Pierre when he was run over by a horse-drawn cart in 1906, leaving her with two young children.  She was plagued by depression throughout her life, something I find unsurprising when I look at portraits, and yet she met every challenge with bravery, humanism and a strong work ethic.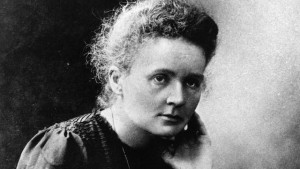 I'll leave you with two quotes of hers that highlight character traits I can only strive for:
Life is not easy for any of us. But what of that? We must have perseverance and above all confidence in ourselves. We must believe that we are gifted for something and that this thing must be attained.
Nothing in life is to be feared, it is only to be understood. Now is the time to understand more, so that we may fear less.
Sources
http://www.buzzfeed.com/kellyoakes/if-male-scientists-were-written-about-like-women?utm_term=.ggbN4DnyVg#.buRrKW93kD
http://www.notablebiographies.com/Co-Da/Curie-Marie.html#ixzz3wZF4pL8V
http://www.thenewatlantis.com/publications/the-marvelous-marie-curie
http://www.biography.com/news/albert-einstein-letter-to-marie-curie
http://www.biographyonline.net/scientists/marie-curie.html
http://www.brainyquote.com/quotes/authors/m/marie_curie.html#6hTfvWq7JDTq3gxD.99
Echolocation is available for pre-order until 24th February 2016 at the reduced price of £4.50 at Mother's Milk Books or you may wish to purchase it at one of the launch events below.
Readings
Nottingham Launch of poetry pamphlet, Echolocation
Date: 24th February
Time: 7- 8.30 pm
Venue: Five Leaves Bookshop, Nottingham
Entry: £3
Details: fiveleavesbookshop
Leeds Launch of poetry pamphlet Echolocation with Michael Brown, author of Undersong
Date: Sunday 28th February
Time: 2-3 pm
Venue: Hyde Park Book Club, Leeds
Entry: Free
Details: bigbookend.co.uk/events
Four Big Splashes with Ian Harker, Tom Weir and Tom Kelly
Date: Thursday 3rd March
Venue: Headingley Library, Leeds
Time: 7.15 pm
Entry: Free
Details: http://www.headingleylitfest.org.uk/topics_pages/poetry.html
Workshop News
A Firm of Poets have been given a residency at The Hepworth Wakefield to celebrate the photography of Martin Parr.  They have lots of exciting things planned.  I will be running a drop in workshop for them on the evening of Thursday 18th February.  Do drop me a line if you think you can come along.  Find details at The Hepworth Wakefield