There was a huge furore in the poetry world last week begun by Rebecca Watts's article criticising what she refers to as 'amateur' spoken word poetry and three of its most successful artists – Holly McNish, Rupi Kaur and Kate Tempest. Part of the scandal was down to the personal, and arguably unkind, tone of the article which included bizarre comparisons of McNish and Trump. Many points were raised in the article and it would take me weeks to give reasoned opinion on all of them.  Besides, so many people have commented articulately that I'm not sure I have many additional points to add. However, as a writer who is also known regionally for my performances, I thought I'd give a summary of my own perspective by starting with an anecdote.
In 2017, I went with a friend to a Hollie McNish performance. Afterwards, she said, 'I wish Hollie had been around when I had my kids'. I felt the same. Being a new mother can be confusing and lonely and frightening and frustrating and McNish has something affirmative and immediate to say to those who don't usually have much access to contemporary poetry (as I didn't when I gave birth in 1997). Surely the social function of this is a good thing, even if you take issue with some aspects of the craft?And yes, it is important for poets to think carefully about their craft but I do think some poets are in danger of talking about poetry as though craft is the only thing that counts. Poetry in its various forms appeals to lots of people for many reasons. Besides, performance is a valid way of transmitting a poem to others and good performance is a craft in itself, one often (though by no means always) lacking at readings of more 'literary' poems.
I believe that one of my roles as a poet is to reflect and articulate experiences of the world and to communicate those experiences to people (not just well-read poets, although there is nothing wrong with that either). Poetry doesn't and never has belonged to any one group of people and long may that continue.
By co-incidence, the accessibility of my own writing was something that came up last week when I received an email about my reviews from one of my readers. She said she had found my 'Medusa' review intriguing but very high-brow whereas she had read the 'Herself Alone in Orange Rain' review while relaxing with a cup of tea. I see her point: the two are in different registers and I think/hope the registers reflect those of the works they discuss (although I have to admit this wasn't deliberate).
As someone who writes for page and stage, I have long thought about how accessible I want my work to be. The answer depends on what I'm writing and why. I'm aware that this, along with my form hopping, makes me a bit tricky to label as a writer. As someone who grew up in the opposing worlds of Bradford and Harrogate and has crossed class boundaries several times in her lifetime, this suits me fine.
My readers will probably be aware that I have written light accessible poems purely for performance and poems that have been considered 'highbrow'.  I'll leave you to decide which category this poem falls into.
I wrote it last year for the Bards, Idols and Liars exhibition at Room 700, Leeds Central Library. The italicised words are taken direct from 'Spectacle de la Nature' an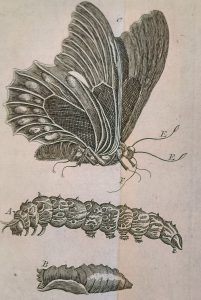 18th Century book in the library's collection which inspired the poem (hence the wacky punctuation). The other words are mine. The purpose of the poem was to expose people to the gorgeous language and images in the book and to make it relevant to now. Like me it is a slightly odd hybrid.
Papilios of The Night is available here as a pdf.
If you like the poem you can buy it in the form of postcards printed by The Dandy Arthouse. Each one has a stanza of the poem on one side and a copy of a copper engraving from the book on the other. I'm charging £5 for the full set including p & p. Email me at write@beckycherriman.com with your address for payment details.
And, if you're interested in resisting traditional labels, you may be interested in a free Meet & Make workshop I'm running this Friday afternoon at Leeds Art Gallery.  We will produce our own creative writing in response to the art of others and take an irreverent and creative approach to art labels using the gallery's collection as a starting point. Details are here http://www.leedsinspired.co.uk/events/meet-and-make