This is the second in a series of short interviews with the artists who are working on the Alice in Bloomers project. Gill Thewlis has been commissioned to communicate through the design and construction of a costume the personality of the show's contemporary character and her motivation.  Like Allana Marsh, she will also be involved in prepping, installing and de-installing one of the library exhibitions.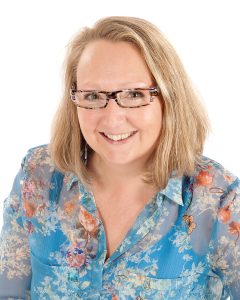 Gill Thewlis trained as a contemporary fashion designer in 2000 – 2003 and created Your Ultimate Working Wardrobe (yuww) after a lifelong frustration with buying clothes for work. YUWW clothes are designed according to the customer's physicality, personality, their working context, the language of clothes and rules (spoken and unspoken), and what that person is intending to achieve.
I went to Sheffield a few weeks ago where Gill covered me in the blue stickers and measured me against her grid.  We talked in depth about the contemporary character, Lisa.  Some of the things Gill said led to  important decisions with regards to the character's journey when it came to working on the script.  This is the lovely thing about collaborative work – ideas coalesce in surprising ways.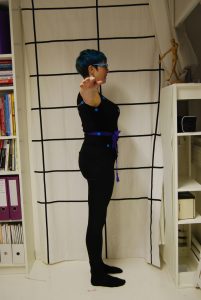 Becky: What is different about the way you work to the w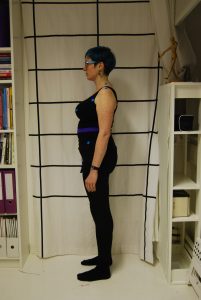 ay in which other clothes designers operate?
Gill: I put the customer or the subject right at the core of the exercise. Unlike designers who design a 'collection', my work doesn't have a handwriting or a signature attached.  As a designer I don't have an ego. I co-design the piece with the customer. It's all about helping the person feel the best they can feel and look the best they can and that's why the label is yuww.
Becky: How do you feel about the prospect of designing clothes for a fictional character?
Gill: Excited.  It's not just the character I'll be designing for; it's the place. It's still a customer, still a brief but I can probably be more exuberant about it because it's designed for performance.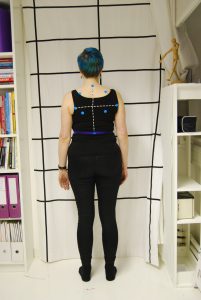 Becky: Do you have a top tip for modern women when it comes to what they wear?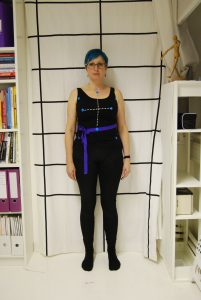 Gill: Never lose sense of who you are regardless of your working context and the written and unwritten rules and the language of clothes in that context.
Becky: What question would you would like to explore through the project?
Gill: I'd like to know how it feels to wear the clothes.
Women's Institute Talk
I'm very excited to announce that I've been approached by Morley Women's Institute to deliver a talk on Alice Cliff Scatcherd on 12th September 2017 at Morley Town Hall (7-9 pm)
Save the date
Publicity for the show, which I can now reveal is entitled Corseted will begin soon.  If you're Yorkshire based and fancy seeing the show, please save the afternoons of either 14th or 28th January.