The final script-in-hand reading at Room 700, Leeds Central Library drew quite a crowd. Twenty audience members came direct from the Pinched Waist workshop where had they found out more about the history of the corset, some of them even squeezing into the sample corsets that Allana Marsh had brought along. It was a rewarding way to finish the research and development project and we were encouraged to see there was so much interest in what would happen next. This week's interview with Jenny Harris should give some sense of what that might be.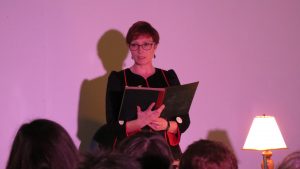 Jenny Harris is an independent producer based in Saltaire.  Her background is as a musician and she is currently working on the New Music Biennial for Hull Capital of Culture 2017, Landlines & Watermarks – a new community opera and commissions programme for Calderdale and is one of Collective23 putting together the artistic programme for Leeds' bid to be European Capital of Culture. She's been supporting Becky in an advisory capacity as she develops Corseted and booking tour dates for the next stage.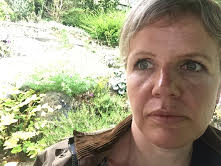 The interview
Becky:  Is there anything about Alice In Bloomers that is different from other projects you have worked on?
Jenny: I first met Becky in 2013 when I commissioned her to do a project in Morley and I know that she's been fascinated by Alice Scatchard since then, so it's great to see the project take shape from her deep and long term connection with the subject matter.
It's been really interesting to see how the theme of clothes and fashion, so important to Alice during her life, has been actively woven into the R&D by Becky working with both an historical and contemporary clothes designer.  I get the sense Becky has really taken inspiration from her close work with both designers.  Becky's managed to bring a historical character to life through her connections not just through her deeds but also the things that were important to her as a woman.
Becky:  The play takes a Victorian woman as its inspiration. Why would a contemporary audience be interested in seeing it?
Jenny:  I think a large number of us are fascinated by the development of the women's movement during the Victorian period and why wouldn't we be?  It was a time when women really stuck their heads above the parapet and dared to be different, to take up a deeply felt cause at a time when they had little power.
We've just seen one of the largest women's marches in history and there's something deeply shocking about the perilous nature of equality and women's rights right now.  If Alice was alive now I'm pretty certain she'd have been at the front of the Leeds Women's march, campaigning for the rights of refugees and against sex trafficking.
Becky:  How do you think the show might develop?
Jenny:  The next stage for the project will be for Becky to work with a sound designer and video artist to take the work from its script-bound state to something more textured and performed.   The plan is for the work to be presented in its finished state in the Autumn of 2017 with some dates across the north of England.  There's rich material in the script at present and it feels a very prescient time to be presenting Corseted.
Look out for more updates on Corseted over the next few months and get in touch if you're interested in booking the show.
Acknowledgements
The Alice In Bloomers project was realised thanks to:
Arts Council England; Leeds Inspired; Leeds Libraries; Morley Community Archives;  Stage@Leeds Archives; Morley Arts Festival; The Morley Local History Society; Readers Group and Golden Days at Morley Library; workshop participants and Kath Martin, Vine Pemberton Joss, Margaret Kirk, Marie Gilham, Jane Rendall, Katie Brown and the artists:
Becky Cherriman, writer and performer; Ray Brown, dramaturg and director; Jenny Harris, adviser; Allana Marsh, historical costume designer and maker; Gill Thewlis, contemporary clothes designer and maker; Biddy Cogill and Derek Holt, actors.