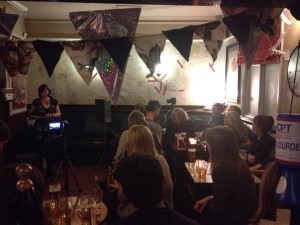 This is where I was on Wednesday, performing at The Golden Ball in York.  The Golden Ball is a community co-operative pub and I'd never been until  Dai Parsons invited me to perform at Spokes, one of the spoken word nights they hold there.  It's cosy and friendly and I suspect the ale is very good, although I wasn't drinking.  My mostly female-oriented poetry offered a good counterpoint to some of the fiction performed by A B Johnson and Dai, which explored the theme of contemporary masculinity, often to hilarious effect.  Christopher Nosnibor performed too and, as a fan of blogs, I'm sure that he will enjoy reading this ; ).  Also on that night were the multi-talented Oz Hardwick and Miles Salter, this time under the guise of their band, the rocking Root 64, described as American-themed music with gusto and fourteen strings.  Nodding along with my friend Milena, who had made the trip to see me perform, made me realise how much I miss live music.  This used to be a big part of my social life but these days most of my social life centres around live literature – no bad thing but perhaps time for a little balance.   Anyway, this was the first gig I'd done in a while and I inadvertently picked the night Spokes was being filmed.  Although I usually like to be off-page for the whole set these days, this time I wasn't.  I did have a good excuse, however: nearly all of my poems have been edited recently so I'm not yet familiar with the new versions.
It is nearing the end of my year of being mentored by poet Caroline Davies on my poetry collection for Cinnamon Press (more about this on my last blog).  The last two Saturdays have seen 13 hour days of me editing material and selecting poems – this is to go along with some 13 hour a day working weeks so, needless to say, I'm a little tired!  From the poems we have been looking at, I now have 45 edited poems that I think will definitely go in, 12 that won't and 10 that might.  Caroline will help me decide once and for all on the maybes and give me some editing tips on some of the poems she hasn't yet commented on and then I will make the necessary changes and we will come up with an order.  Then to send the manuscript to Jan Fortune, the editor at Cinnamon Press.   Jan has been supportive throughout the process and I look forward to meeting her and the other mentored writers at the residential in Wales in January.  As a result of this process, I also have a pamphlet that is almost ready and will be looking for a publisher for this over the next few months, so if you're an independent publisher who might be interested, do get in touch.
This has been a year of editing for me and not just poetry but fiction too.  After some prodding from Nathan Ramsden, a fellow writer, I've decided to revive my first novel, currently titled 'Yellow Brick Roads' and publish it.  I'm still working on the details but promise I will let you know more soon. The novel is a gritty Bildungsromans set in Harrogate's subculture in the mid 90s.  'But Harrogate's such a nice place!' people say when I talk to them about it.  Yes, but it has other sides, other voices and not everybody who lives there drives a 4 by 4 and visits Betty's at the weekend.  I should know, many years ago, I used to live there with several others in one of the self-contained flats bang in the town centre, beautiful from the outside but a very different story when you step through the door (or possibly climb through the window).
Anyway, a truly lovely serendipitous thing has happened as a result of this novel resurfacing.  Writer, Steve Toase has been working on a research and development project for an i-move project that will happen next year in Harrogate and, when I told him I was planning to publish YBRs, he and Tessa Gordziejko, invited me to be involved.  We've been plotting and discussing and meeting with relevant people ever since and now have a name for the project – Haunt.  More will be revealed soon.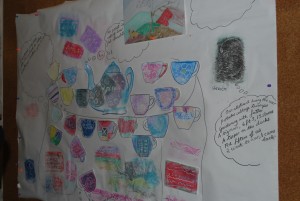 You may have gathered that life is incredibly abundant for me at the moment.  In addition to my own writing and beginning to learn Italian (buongiorno!), I've also been working hard on a lot of workshop projects; one of those is In The Moment, an Artlink project working with adults who have dementia diagnoses.
Bev Haines, the visual artist and I are finding it a challenging and deeply rewarding project.   The creativity of the people we are working with is incredible and they have so much to share.  It is our job to capture and arouse this creativity. You can read more about how we are doing this here 
Representatives from one of my favourite Artlink projects Oasis,  (pictured below) read on Peter Spafford's ELFM programme Love The Words recently.  We are 25:40 in.  The project was joint funded by Leeds Jewish Welfare Board.  Participants were Jewish and non-Jewish carers and a book was produced to celebrate their work.  Here is a free PDF.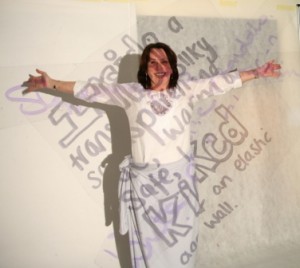 Speaking of publicity, the gorgeous Leeds-based website, The State of The Arts interviewed me for their Artist in the Spotlight feature in October.   It's about time we had a vibrant online presence for 'creative goings on' here in Leeds and I was delighted to be asked.  Since my last blog I've had two pieces published on Carolyn Jess Cooke's week-long blog feature on depression 'Shadow' and 'Namesake'.  There are some really wonderful poems on there by some amazing poets so do have a look. My flash fiction story 'Charlie's Mum' and poem 'Paisley Quilt' have always been favourites at Harrogate's Poems Prose and Pints night so they were the pieces I submitted to Tim Ellis for the recently-published book How Am I Doing For Time? which was released to celebrate the fifth anniversary.  I was guest reader at the second ever night so it's great to see it going strong.  Do support the night by going along and/or buying the book.
My next performance is going to be Hosiery Posery, a yoga critique on the images on tights packages in Bradford on December 6th (yes, I'm very out of my comfort zone on this one!).  It was thought up by Bryony Pritchard and Yvonne Carmichael and is being put on by Compass Live Art and Make-Pla(y)ce.  It's free and there will be other intriguing events so do come along.After that it's Firm of Poets, Poetry and a Pint in Pudsey on 11th December.  I'm quite daunted to be following in the footsteps of Helen Mort, John Hegley, Peter Spafford and Antony Dunn but it will be a real birthday treat for me (my birthday is the next day) and I shall give it my all.  I hope some of you can make it.  Details are here
Another invitation  I'm excited about came from Leeds Writers Circle.  I am to judge their Poetry Competition next June so look forward to reading their entries and making my decision.
June will be a busy month, what with my regular work for Ilkley Young Writers, preparing for Haunt events and the culmination of another possible commission.  This one depends on funding and would involve working alongside Bryony Pritchard again, this time on a collaborative and consultative writing, visual art and movement commission.  I hope to give you more details on that in the new year but if it goes ahead it will be a very juicy community-based project and I will have the opportunity of working alongside two of my favourite colleagues.  As you can imagine, I currently feel very blessed!
With all this (and more) happening, I haven't managed to stick to my hour a day on the new novel recently and have made the slightly tricky decision to finish this section of the draft and then shelve the manuscript until after the commission/s have finished next summer.  The hour a day has been a great discipline and I feel that 51,278 words in and 2/3s of the way through a first draft to is a good place to pause.   After all, it isn't going anywhere and  it is essential for me to make sure I do justice to ALL of my work.