Haunt
After over 18 months of working with Steve Toase and Imove on the Haunt project, we are about to embark on what will probably be the most exciting and ambitious stage of the project so far – a site specific tour of Harrogate, which is being shown in partnership with Harrogate Theatre as part of their 2's Company series.  Hope you can make it either as an audience member or in another way.  Please see the theatre page for booking details or visit this page to see ways in which you can be involved.
iMove_Haunt_Flyer_v4.0 (1)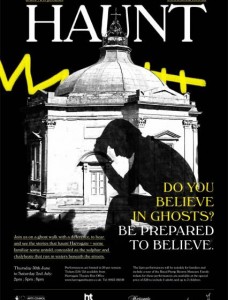 A huge thank you to those of you who voted for us in the Saboteur Awards too.  We didn't win but a lot of people voted for us and we were delighted by the quality of and volume of comments so no apologies for posting them here:
Haunt addresses very real issues in a new and innovative way.
A brave collaboration which aims to celebrate voices that are rarely heard whilst creating innovative work of high artistic quality.
It gives a voice to the voiceless.
Standing way above the rest with originality and great collaboration shining through the work.
Because they are great!
Brilliant project about homelessness which has produced a genuinely lovely book.
Moving, innovative project that gets to the heart of a city.
They are doing very important work in a creative, innovative way.
A wonderful fully cooperative project, raising the profile of a group of people often hidden from sight in towns like Harrogate. Gives them a voice in an original way.
The quality of the work and the depth and range of the community involvement.
Writing in the ultimate social sense.
Shockingly direct and unselfpitying accounts of people's lives below the surface appearances of how things are meant to be.
It challenges cultural stereotypes and highlights that homelessness can be present in even the most well to do societies.
Because I grew up in Harrogate so this caught my attention and then haunted my dreams.
Innovative, forward thinking productions always, opening up debate about things that really matter. Very original way of looking at things, and opening the door to solutions.
A wonderful anthology giving a creative outlet to hidden voices and hidden talent and one that has made a real difference to the writers involved.
Innovation and fun.
Integrity.
I was particularly enthralled by Richard Harries.
Because the project allowed people who would likely otherwise be left out of arts activity to engage and get enjoyment from finding a voice.
The project has helped vulnerable people to have a voice.
For making a rather invisible subject visible through creativity and warmth. Inspiring, artistically brilliant and socially important.
Great piece on a growing issue in Yorkshire.
Managing to combine a great cause with some great stories. Giving opportunities and experience whilst raising awareness. All round a fab project.
Powerful work. Project which engaged and supported a group who really need it.
Well written and a great piece of work.
Brilliant work.
In aid of such a well deserved cause.
They're the best collaborative work.
Excellent.
This is a beautifully haunting trip through the other side of Harrogate. The writing is powerful. It may just highlight the reality of towns and cities to the invisible people that are present there.
Just love it.
Covers an important and often neglected area of life with great sensitivity and empathy.
Very moving, on the important issue of homelessness, with participants who have been encouraged to express their real life experiences.
The book produced is great and the ongoing work of the project is raising awareness of homelessness in a town which many people wouldn't believe has a problem.
My home town is perceived as affluent and privileged. Growing up there, I've often called it a schizophrenic town. In Haunt we see the other side, portrayed in a way the posh half would appreciate.
Because they are reaching out to include the excluded in society.
Intrinsic, honest, moving
They have achieved real social value as well as creative worth artistically.
amazing & evocative work
Extraordinary work tapping into the imaginations and the life experiences of some of the most marginalised people in the region.
Fantastic project, really opening people's eyes to another side of posh Harrogate.
Because while there's homelessness, we are all haunted, and this project is making a tangible impact.
They have done some amazing projects with the youth hostels that has been really effective
Positive work with the complex young people we support.
Amazing and moving.
Fantastic project that worked so well with our service users to produce some beautiful work
Really important project working with vulnerable people
Great project, giving people their own voice.
Having experienced homelessness and seen it's impact first hand on many others in my hometown, this is an innovative and valuable project.
This is a genuinely collaborative project with one of the most excluded groups in society. It has led to some great art as well as opening up new opportunities for socially excluded individuals.
Because the project reminds us that homelessness and transient lives aren't just a 'far-away' problem of big cities and deprived places… and, more importantly, reminds us that the homeless are real people with voices and opinions and likes and dislikes – rather than the blank receptacles for pity or charity that we're all guilty (at times) of seeing them as.
The work they do raising awareness of the problem of homelessness, particularly in such an apparently affluent area as Harrogate where many do not realise it is happening, is amazing and important.
Because it is powerful and truly collaborative.
To encourage further collaboration between artists and venues that increase local knowledge and situational awareness. What Haunt has produced is not just a splendid piece of work, but establishes that effective, entertaining multidisciplinary approaches are eminently possibly.
Innovative, creative, inspirational.
The innovative approach to the project and the engagement with the homeless community amongst others who have collaborated on this work has been truly inspiring.
Homelessness education should be important to everyone.
Good writing and good work.
Beautiful powerful project.
The stories they are telling, in the setting they chose, and the way they are telling them.
Extraordinary work from (generally ignored) homeless people.
A sensitive collaboration between professional writers and non-professional, sometimes completely new, writers. Beautiful writing and a poignant insight into human fragility, and the fragility of our perceived 'security'.
Very moving work about an often ignored issue.
Innovative, inclusive and local, what is not to like?
For helping those who don't usually have a voice get their stories out there.
They are doing very important and creative work for the local community and are great poets themselves.
An important and deeply emotional project for the socially excluded.
Great collection of stories, well written.
It's a great enterprise involving many fine Northern talents.
Compassionate and well-crafted responses to current issues of homelessness and the ways that contemporary issues can haunt us by doing as well as doing nothing, through writing and film.
For all the help and awareness they are raising. And the hard work that's gone into the project.
Panel Discussion
A couple of weeks ago I spoke on a Talking Writing panel with Emma Adams and Michael Stewart at Leeds Central Library.  The discussion was chaired by Daniel Bye and it was on the fascinating topic of Structure and Form although I felt I'd only just warmed up by the time it had finished.    You can listen to half of the discussion on the link above.  I'm not brave enough to listen yet!
My long time group of older adults The Mae Writers are launching their second anthology Further Reflections next week on Thursday 9th June at Thackrah Court, Shadwell Lane, Leeds, West Yorkshire, LS17 8FQ between 2 and 3 pm.