I have some big news.
Haunt has been shortlisted for the saboteurawards.org  and the site is open to votes now.
My poetry pamphlet Echolocation, Karen Dennison's Blueshift and both my poetry publishers Mother's Milk and Cinnamon Press were also longlisted.  Huge thanks to any of you who nominated any of the wonderful projects I've been involved with.
You can read more about Haunt and what people think about it and the other shortlisted collaborative votes on the website.  The finished piece of site specific theatre will be shown from 30th June-2nd July in Harrogate and is inspired by people who have experienced homelessness in Harrogate.  This week the Imove team (including dancers and sound designer) met in Harrogate to begin developing the script from the words we have collected over the last eighteen months.  Here I am listening to Steve's words by the cenotaph.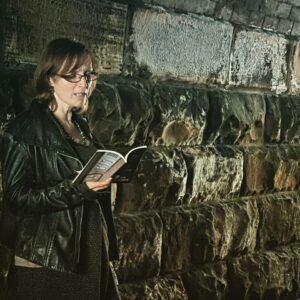 After reading the first three chapters of my second novel, Bluemoose have requested the full manuscript and it is now in the hands of editor Kevin Duffy.  There are obviously no guarantees but I'm so excited that it is being given a real chance.  Meanwhile Jan at Cinnamon has sent me proofs of my pamphlet to check.
I'm delighted to have been appointed by Beam and the working group as Lead Artist for Altofts Lit Fest In A Day.  The festival will be taking place on 24th September as part of Wakefield Lit Fest and I'll post more on this in the coming months.
With all this and much more going on, mainly facilitating other people's writing, I'm aware I still haven't blogged on another famous mother and it's unlikely I'll be able to for awhile.
Forthcoming Appearances
I'm speaking about form on a panel with Emma Adams and Michael Stewart on Tuesday 17th in Leeds and performing poetry at The Hepworth Four Under Parr series with A Firm of Poets on Thursday 19th.
If I don't see you next week, take care and, if you want to vote for Haunt, you have until 24th May to cast your vote. Thank you as ever for your support.