Much of my pamphlet (out on Wednesday with Mother's Milk Books) deals with mothering and pain.   From the first cramps of labour, much of mothering is painful – the child's first accident, first heartbreak, the cruel things they can say, the mistakes you inevitably make.  But there are more personal reasons that pain seeps into my poetry.  Since adolescence I have experienced several chronic illnesses including Graves' Disease, gynaecological issues and problems associated with hypermobility.   Pain – hormonal and physical – has been, as it is for many people, part of the backdrop to life.   Although obviously sometimes I've had to make adjustments, I've been lucky; these illnesses have slowed me down but they have not stopped me from doing anything I have wanted to, with one exception.   I have been unable to conceive a second time, which means that, unless we separate, my brilliant-with-children husband will never be a biological father. That is painful.
So far in this blog series I've dealt with women who have reared children.  But what about the babies we don't have, the ones that never have the chance to grow.  Women are used to hearing, 'when will you give us a grandchild?  'are you pregnant yet?'  'when you have children…' 'only a matter of time before the patter of tiny feet'.  But socialisation is often insidious too – the rows of pink toys in toy shops that encourage us to nurture and feed and change nappies before we can speak, the praise we are awarded when we are kind or loving, the criticism when we are wild or messy.  We know from being very young that we are expected to be mothers at some point.  And yet some of the best women I know are not biological mothers – those who choose not to be mothers and those who have no choice.
The lines below are from my poem 'Cycle' and were written when trying to come to terms with my own experience of infertility.
Your words clot,
heavy and obliterating as snowfall
and the facial expression you adopt…
Is this what is deemed to be appropriate, Doctor?
(Becky Cherriman, 'Cycle', Echolocation)
This blog is about Frida Kahlo (1907-1954), a mother who was infertile, a woman who experienced far more pain than most of us can imagine and thrived despite it all to become one of the most talented artists of the 20th Century.   A polio survivor, victim of a tram crash in which her spine and uterus were impaled and which left her needing 30 operations, she had multiple miscarriages and needed several 'therapeutic' abortions.
Whereas my poem deals with a notorious Leeds gynaecologist whose 'care' (and I say that with no small degree of irony) I was unfortunate enough to be under, Kahlo had a much closer relationship with her doctor, to whom she addressed a series of letters – 'My Beloved Doctor'.  In 2007, these were collated and published in a book called Querido Doctorcito.  As Kahlo sought to represent the loss of one of her babies in her art, Dr Eloesser, the man who helped her reconcile with and remarry her unfaithful husband, trusted her resilience and brought her a foetus in a jar to help with her painting.  Kahlo referred to him as her best friend.
But back to what she was mother of, in addition to her unborn children – her art.  Kahlo's husband-to-be Diego Rivera commented on the 'visual honesty' of her work and Andre Breton saw her as 'a natural surrealist'.   Spotting her work in Mexico, he gave her a one woman show in Paris, which she attended on a hospital bed whilst seriously ill, becoming part of her own exhibition, an installation-piece unrivalled by any Turner Prize nominee.
Kahlo could never be accused of being two-dimensional as a character.  As The Guardian showed on Sunday with its publication of a love letter from her to photographer Nickolas Murray, she was not monogamous.  She smoked and drank. She painted her monobrow and her moustache in her self-portraits and wore traditional Tehuana dresses, which were bright and beautiful – more so 'the more pain she was experiencing' – and concealed her different-sized legs.
She was a politically-active Communist who rewrote her own birth date to co-incide with the Mexican Revolution.  'Fiction reveals truth that reality obscures,' Ralph Waldo Emerson said and Amy Stechler sees this rewriting of history as deep honesty.  The same has been said of her art.  True to her Mexican roots, Herrera commented, 'Frida's paintings interweave fact and fantasy as if the two were inseparable and equally real'.  This is one of the reasons that I, as a magical realist fan, so love her paintings.  She didn't shy away from blemishes or pain; what she showed about life and her own experience was both excruciating and beautiful.
If you haven't already or if you'd like to again, I encourage you to seek out her paintings and Pascale Petit's poetic dedication to her work What The Water Gave Me.  I will close with a few lines from Petit's collection and the corresponding painting.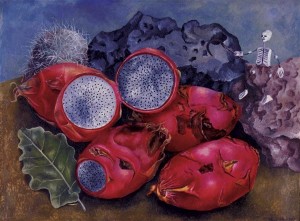 Here – my twentieth year is sliced
open and offered to you, ripe
as a pitahaya,
a leafed
womb on a marble slab.
Peer into the twilight flesh
of trauma
and the sharp black seeds
that fly into your mouth like stars
(Pascale Petit, 'Pitahayas', What The Water Gave Me)
Sources
http://www.theguardian.com/world/2007/aug/12/artnews.art
http://sm.stanford.edu/archive/stanmed/2013summer/article8.html
http://www.biography.com/people/frida-kahlo-9359496
http://www.theguardian.com/artanddesign/costume-and-culture/gallery/2015/may/05/what-frida-kahlo-wore-artists-wardrobe-locked-up-for-50-years
http://www.pbs.org/weta/fridakahlo/life/
http://www.goodreads.com/quotes/tag/on-fiction
Echolocation poetry pamphlet – 
Nottingham launch 
on Weds 24th February 2016
Echolocation poetry pamphlet –
 Leeds launch
 on Sun 28th February 2016 (Sold Out)
Four Big Splashes with Ian Harker, Tom Weir, Tom Kelly at
Headingley Lit Fest 
on Thurs 3rd March