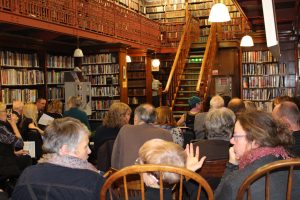 The launch of my first full poetry collection Empires of Clay began dramatically with a text from my publisher Jan Fortune of Cinnamon Press to say that she had been knocked over at York train station and had injured her leg. Fortunately she wasn't badly hurt but she would be unable to compere the launch.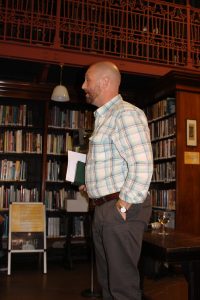 Hero of the Leeds literature scene, Fiona Gell of The Leeds Big Bookend stepped in to introduce first Steve and then myself. Steve read startling new poems inspired by lines from Matthew's Gospel. Steve's poetry in no way makes for easy listening.  Born of Yorkshire dialect and landscape, I find his guttural creations transporting, each one making me feel I am travelling both through history and the formation of language.
Then I read.  I was overwhelmed to see more than sixty people had turned out on such a cold night. It was a true collective of family, friends, colleagues, people from my past, people I have taught – young and not so young – writers, blog readers (!) and quite a few people I'd never met before.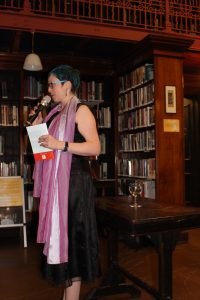 Standing below Leeds Library's glass atrium where many of the poems were written, I handed control of the reading over to the audience. People were asked to choose page numbers, the idea being that I would be forced to try out poems I haven't read before.  I have seen Oz Hardwick take this approach in the past and people commented afterwards that they had enjoyed the interaction.
On request, I finished with Eucharist (below)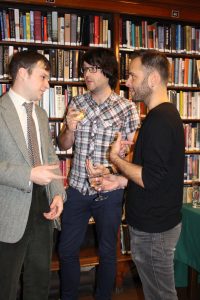 Eucharist
Every morning, the same, her asking,
Have you had your breakfast, got your lunch?
But breakfast wasn't as important
as zapping zombies or texting Alex back
so, invariably, I lied.
Often, even with her face pale as brume,
her hair shedding like maths sheets from an open bag,
she'd rise and serve me porridge –
a Eucharist of grain and fruit.
Threes, she'd say, the ladle
tremoring in her hand
and we'd speak our trios –
holy trinities of how the day before had been,
what we'd loved, and why.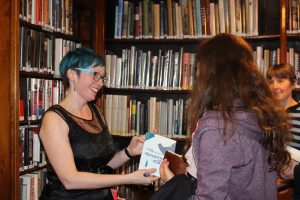 Afterwards I spent an hour signing books. Thanks to everyone who came for helping me to celebrate the long-awaited publication of my first full book.
If you would like a copy you can buy one from Cinnamon Press
See me next at Word Club Special with Kate Fox, Antony Dunn and Tom Weir on Friday 25th November, 19:30 –11.00 (£8). Booking details here.