This is a busy week for the Alice In Bloomers project. It began with Allana Marsh's Victorian Embellishments workshop yesterday, will continue today at 5.30 pm with Wearing Purple, a creative writing workshop, which I will be running, and culminate in Saturday's Pinched Waist workshop and the final script-in-hand show of Corseted.  We have sold out of the Pinched Waist workshop but there are still some tickets available for the creative writing workshop and the show – although they are selling fast.  All events are at Leeds Central Library.
Derek Holt and Biddy Coghill were actors brought into the project fairly late when we realised that a reading of the script required other voices. They provide voiceovers for stage directions and read the parts of minor characters for the script-in-hand shows.  I interviewed them together.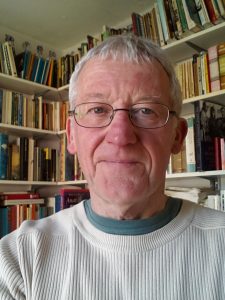 Derek Holt
Derek has a background in theatre and education. He taught performing arts and theatre studies in high schools through to further and higher education over 16 or more years. He spent 8 years in community and TIE theatre companies as an actor, deviser, writer and director, taking work into schools and non-theatre venues throughout the country.
He also performed in main-house productions in Leicester, Sheffield, Leeds and Hull and popped up once in a hot air balloon in Emmerdale!
Although formally retired, he continues to perform with a Leeds-based men's choir, co- devising and sometimes writing original drama-based productions around historical and contemporary themes. He is also lucky enough to work occasionally on productions such as Becky Cherriman's Corseted; Tony Gaughan's The Wicca Mam and The End of the World; and director Ray Brown's play The Yerney Project.
Biddy Coghill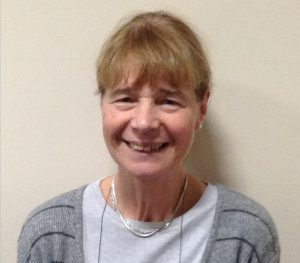 Biddy trained as an actress at LAMDA and joined the Leeds Playhouse Theatre-in-Education (TIE) company in 1977 as an actress and deviser, touring Leeds schools with plays and workshops, often about historical or contemporary social issues.
In 1993 a change in funding policy closed the Company but it was re-opened by a small group of the original actors, as Leeds Theatre in Education Company. They continue working in Leeds schools and on community projects.
Biddy performed in Tony Gaughan's The Wicca Mam  and she worked in Delhi for 3 months on a schools TIE project with Indian actress, Maya Rao.
Whilst working for the WEA, she met and worked with Becky Cherriman on a number of creative projects and was delighted to be invited to be involved in Corseted.
Biddy is presently working with the Leeds TIE company on a new school project.
The Interview
Becky: What were your first thoughts when you saw an early draft of the script?
Derek: I liked how the two stories interweaved. Fascinating subject but a lot of words.
Biddy: How is this going to work? This was not a negative.  It wasn't what I was expecting – I wasn't expecting FGM – I had to get my head around it.
Becky: As a couple, what is it like performing together?
Derek: It's not the first time!
Biddy: Great! I always like working with him. That was how we we met. We played husband and wife in a play.
Becky: Do you have any acting tips to offer aspiring performers?
Biddy: Don't 'act' or tell the audience what to think. Let the script work. Work off what is given to you.
Derek: Pay attention. Work as a team. Listen.
Hope to see some of you on Saturday!
Becky.