It's been much hotter than expected outside and things have been hotting up for me too – I know, I know, writers are supposed to avoid cliches but I have so much news!  I'll begin with the most recent piece.
On Monday I finished the third and most important draft of my novel 'Skybound'.  This is a huge milestone in completing the novel and I am delighted to have reached this stage.  I've spent most of the rest of the week reading through, performing a quick edit and asking myself questions about it before I hand it on to three readers who are going to be using their expertise to help me with parts of it.  I already know some of the key changes I need to make but when I hear back from them I will also use their comments to inform a final edit before starting to approach agents.  In the meantime I'll look for agents who I think might be interested, although my first calls will be those agents who requested my second novel when I sent them my first!
The other big writing related project of the last few months has been the commission to produce ten texts to be displayed upon umbrellas for Grassington Festival.  It was a lot of fun.  I discovered through my research that umbrellas have so much history and mythology surrounding them.  I wanted to produce a variety of different works that would appeal to festival-goers so felt it was important to strike a balance between humour and play whilst at the same time making the writings educational.  This is why the final pieces included a kenning, a limerick, flash fiction, free verse, aphorisms and a lucky sprinkling of superstition!  Here are two of the more playful pieces.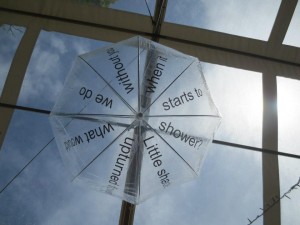 Flash Flood
The umber umbrella passed a place where scaffolding upheld a building.  It was impressed and then depressed. 'My bones are metal too' it said 'and all I hold up is nylon.' Forlorn, it allowed a gust of wind to turn it inside out.
'No,' its owner said, turning it back the right way. 'You hold up the sky.'
After a full day of finding ten different layouts for the texts, I worked with Bryony Pritchard the Visual Arts Director of the festival and some generous volunteers to stick the printed vinyl words on the brollies.  It was lovely to see them swinging in the wind while the brass band played and to hear them described as 'word chandeliers'. Soon I'll put up an umbrella-related page on this site in which I will include the texts and more photos of the brollies but for now here are a couple more to whet your appetite.  
Now that the festival is over, the umbrellas seem to be in demand, particularly with poets. They've even received a wedding invitation!  The plan is to auction them off for Grassington Festival although I may have to keep one for myself for the memories.  I'll keep you posted on when that will be.
As I haven't yet been successful in gaining a grant to support time for my writing or having a big (in monetary terms) publishing success, life is always very much a balance between bringing in a healthy living and squeezing writing in where possible.  Projects like this are sweet as marzipan balls because they fulfil both necessities (and yes, I do see writing as a necessity).
I've not been as prolific in entering competitions since my workshop commitments have increased but I've still managed to send a few poems off to two competitions and also spent a considerable amount of time pulling together pamphlet entries for Faber New Poets and Mslexia Pamphlet Competition.  I should find out if I've been successful in the autumn.
Apart from my performances and a few submissions, I've had less time for poetry over the last six weeks and only written one poem that I think has some substance to it. It was inspired by found poetry and artefacts in and around Christ Church in Ilkley where our Ilkley Young Writers meet.  Their responses to the same exercise were rich and original as ever.  Over at the Ilkley Young Writers we've been busy trying to complete the Bronze and Silver Arts Awards alongside performing and writing and playing games with words.  It's all change for Michelle Scally Clarke and I as two of our group, one who was an original member, are leaving to study at university.  Assuming their grades are as expected, Rachel will be taking English at York and Amy Luxton will be studying English and Creative Writing at Lancaster.  We're very proud of how much they have progressed over the last few years and are sorry to see them go.  Amy's parting gift was to tell us that she had won the Cheadle Historical Novel competition for 15-18 year olds.  As the competition was judged by Sebastian Faulkes, Charlie Higson and Joanna Lumley, this is no mean feat.   You can read more about it here . Amy is not the only one in the group to have had success over the last few weeks  The poetry of Lizzi Hawkins, some of which she has written in our sessions, has been published in a new anthology by Dead Ink and Valley Press as representing the best of the writing of under 40s living in Leeds.  Not a bad achievement for a 16 year old!  I very much enjoyed watching her read at the Leeds Big Bookend anthology launch. 
It was great to be involved with Leeds Big Bookend myself.  In addition to reading William Yeats, Grace Nichols, Dylan Thomas, Ted Hughes and Stevie Smith for Fictions of Every Kind at Leeds Big Bookend, I also performed my own work at a Bookend event hosted by Pastiche Magazine at Trinity Shopping Centre.  Both were interesting and varied events and the Tony Harrison finale at the Playhouse was incredible.  It was great to see a full house.  Well done to the organisers for a successful festival.
A big gig for me was Beverley Folk Festival.  I performed with Miles Salter, Oz Hardwick, Amina Ayal and Andy Humphrey over cheese and crackers.  Thanks to our supportive audience and Miles's laidback hosting style, it was a very varied and relaxed gig.  I loved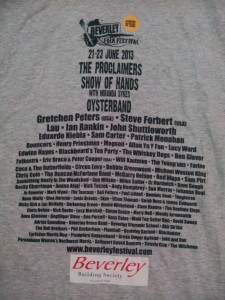 listening to the poets and catching some music with them afterwards – my favourites were The Young Uns, Sam Carter and another band whose name I can't recall. I had been almost off-page for the Pastiche performance but learned each piece for the Beverley gig, which with my colandric memory is something I'm quite proud of but the biggest surprise of the day was to find myself on a T-shirt with The Proclaimers!
Another workshop-related highlight for me has been the Open Door exhibition at Artlink West Yorkshire.  I mentioned in a previous blog that I was working with visual artist Milena Dragic and a group of women on a project called 'Conversations in Colour'.  The exhibition brought together different groups who have been working with Artlink  over the last year and, in addition to displaying their accomplished artworks and poetry, our group performed their work.   'Conversations in Colour' was a truly beautiful project with a wonderful group of talented, dedicated and supportive women.  Given the life stories that these women have, that all of them managed to read and perform both individual and group pieces to an audience is impressive.  Milena and I have written in detail about the project on the Artlink blog http://artlinkwestyorks.blogspot.co.uk/ so please do visit and let us know what you think.
Another of my regular work places, The Hepworth Wakefield, has recently been awarded the Clore Award for Learning and I'm very pleased to have contributed to its success and to be working with such a fantastic team.  Speaking of the Hepworth, the creative writers who attended my last workshop were as prolific and inspiring as ever and it was lovely to be able to link the workshop to my novel by tackling the theme of magical realism in relation to the current exhibition.  The gallery also run a book club on the third Thursday of every month and I very much enjoyed leading my first session on 20th June.  The books chosen always link with the exhibitions in some way and I think it's a great way to explore both literature and art.  I'm running the workshop in January but each artist has their own approach so if you know anyone who might be interested please have a look at what is coming up http://www.hepworthwakefield.org/bookclub/  And it's only £3 a session!
I've saved some of the biggest news for last. I'm delighted to say I've been awarded the poetry commission for Morley Literature Festival this year.  The project is multi-faceted and includes writing a poem inspired by Morley, facilitating a family workshop and an adult workshop, putting together and performing at a poetry evening and curating a series of poetry extracts.  The extracts will be interpreted by my friend and colleague, visual artist Bryony Pritchard and placed on the streets of Morley.  I'm incredibly excited to see what she comes up with.  I'll be updating you on this in future blogs but the programme should be up on the website in the next few weeks so you can always check on what's happening there http://www.morleyliteraturefestival.co.uk/.
Oh and do come to our reading on Wednesday if you can.  I'll be reading from 'Versions of The North' published by Five Leaves and edited by Ian Parks alongside some of the region's best poets.  Here are the details.
Versions of The North at Poetry By Heart
7.30 pm on 31st July at Heart Cafe, Bennet Road, Headingley, LS6 3HN, with Ed Reiss, Steve Ely, Linda Marshall, and Andrew Oldham. Introduced by editor Ian Parks
Cost: Free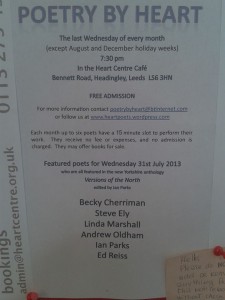 Hope to see you there but if not, enjoy your summer!