I write on National Poetry Day with a link to the online exhibition for the Beyond Measure Project. My audio poem 'The Force of their Lives' was one of ten Cultural Institute commissions created for the exhibition. It is an experimental piece and best listened to with headphones and eyes closed. You can listen here if you like. Please visit the online exhibition to experience the other work and let me know your thoughts if you have time. I am genuinely overwhelmed to be in such magnificent company so wanted to give each of the commissioned projects a mention here.
Mahboobeh's poetic video art tells a story of migration and the thread Persian Traditional Dance has made through her life. If you are one of those who awaits an end to the anthroprocene, you will love dancer Dominique Baron-Bonarjee's film which is set in woodland. There are participatory projects such as Sarah Fraser's who documented the moulding of connections between group members over the medium of clay and Let's Keep Growing, which highlights creative evaluation methods used in a gardening project. Yvonne Roberts and her camera-collaborators produced some incredible composite images which layer the past of canalscapes with the present, their focus on social regeneration. Emily Jenkins' film on the joy experienced by women with cancer when dancing had me weeping. And, after over six months with no contact with my dad who is in a care home, I'd give anything to have one of Invisible Flock's music boxes. Click on their project to see why. And, if you're quick, you may be in with a chance of receiving some of Garry Barker's storytelling cards.
Like Niya B, whose beautiful supplements were posted to artists and creative people, my subject was artist mental health and, as with Baron-Bonarjee's work, embodiment and connection with woodland are major themes for me.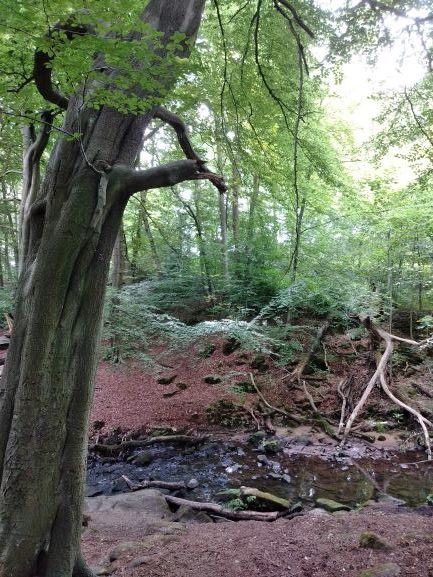 You can read about my process in the accompanying article. This included discovering the impact of respiratory problems on anxiety levels, learning more about how a diverse ecosystem can reduce inflammatory processes and a night spent in my local woods. It was a treat to be able to devote so much time to research before even beginning the writing and, after being so unwell, it allowed me to create authentically from where I was. Huge thanks to my friend Matt Flint who helped me with the audio editing, which proved challenging as I attempted to combine voice with breath and field recordings.
If that's not enough poetry from me for one day, you can see a film of 'Daily Exercise Allowance', a new poem on Poetry Archive Now – which is more of a traditional narrative poem than The Force of their Lives. I also have a poem in the brave anthology Bloody Amazing which has been edited by Gill Lambert and Rebecca Bilkau and deals with the theme of menstruation and menopause. Even the cover, designed by poet and artist Jane Burns, is striking. Every woman and man should have one.
I'm going to end with the sad news that Mother's Milk Books, the publisher of my pamphlet 'Echolocation' is closing up shop. Teika Bellamy has done an amazing job with every book and has been incredibly supportive of all her authors. She is selling off the remaining books and other merchandise at 50% of the cover price here. I can recommend every single one I've read (i.e. most of them) and it may be your last chance to buy as many will be out of print soon if they aren't already – Echolocation being one.