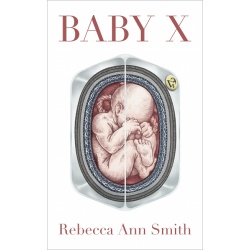 Plaiting together the stories of Dr Alex Mansfield,  Dolly, and Karen Frey, Rebecca Ann Smith's Baby X tracks these women's relationships with a human foetus as it develops in an artificial uterus. This is a novel about fertility treatment and its implications, about the danger of privatising health services and the ways in which a woman can be a mother. All the main characters (and many of the secondary characters) are destined to explore their connection with motherhood, whether they be the recipient of the fertility treatment, the doctor who 'births' the baby or Dolly, the lesbian lab assistant for whom Baby X catalyses her thoughts on mothering.
The uterine environment is so meticulously-controlled that the parents of Baby X are continually told their child is 'perfect'. Yet this cannot last. This is the ambiguity of parenthood – despite our children's imperfections, be they caused by the filthy fingerprints of a society built on greed, medical interventions or over-sterility of an environment, in some ways our children remain perfect to us.
The novel explores the double bind faced by mothers – how they are expected to be flawless whilst being vilified for their choices, whatever those choices are. Smith holds a mirror up to mistakes familiar to those of us who are mothers or have had mothers – mothers make bad calls, feel fear about putting their careers on hold to child-rear; their relationships with partners falter, they misjudge men and can even be over-protective to the point of cruelty.  Yet Smith conjures well the depth of love and care mothers are capable of.
The mission of Mother's Milk Books is to 'normalize breastfeeding and celebrate femininity and empathy'. After a module on 18th Century femininity at university, I have been ambivalent about the term femininity and its implications but will discuss this another time.
Smith illustrates beautifully the miraculous capacity to produce milk from a dry breast and describes the process in detail -the mouth of the infant 'the beak of a baby bird…'She writes, 'the sensation had almost become pleasurable like scratching hard on a patch of itchy skin until it bled' (p.234.) Indeed the experience of mothering is so all-consuming, one of the characters is subsumed by the child only to be experience her own rebirth, 'dissolving into elemental particles and then reforming, a new shape' (p.246).
Although science fiction in genre, Baby X swaddles close to our current reality – science expects to soon be able to reproduce the conditions of the uterus for babies that would otherwise be born prematurely, having already achieved this with lambs. Yet what makes this story feel so true is the empathy that permeates it. Despite her characters' flaws and unlike the occasionally vicious propagators of mass and social media in the book, Smith draws her characters humanistically and with kindness.
Baby X has important things to say about motherhood, science and capitalism. The mystery at its core and short first person chapters, alternating between the three different narrators, seamlessly move from past to present and kept me wanting to hop to the next page. Despite a busy week I finished it in five days.
Baby X was published in 2016 and, as with all Mother's Milk titles, is beautifully produced. Another novel, The Growing Season by Helen Sedgwick, published by Harvill Secker was released last month and also deals with the topic of ectogenesis – artificial wombs – so it is obviously a hot topic. I only hope Baby X receives the coverage it deserves.