Any work that wanted doing Launch
The launch of the Leeds 2023 Any work that wanted doing exhibition at Leeds Industrial Museum took place on Friday night. First we were treated to an evening of songs about local Ironmaster Betty Beecroft, a performance from fellow artists Janet Alexander and Katie Redstar about Deaf mills workers and a talk about Leeds buildings from the Civic Trust. Next was our opportunity to see all the works created for Any work that wanted doing. It was wonderful to view the art in situ including My sisters hugged me to work, the piece created by artist Becky Moore and I. We also really enjoyed chatting to people about the work.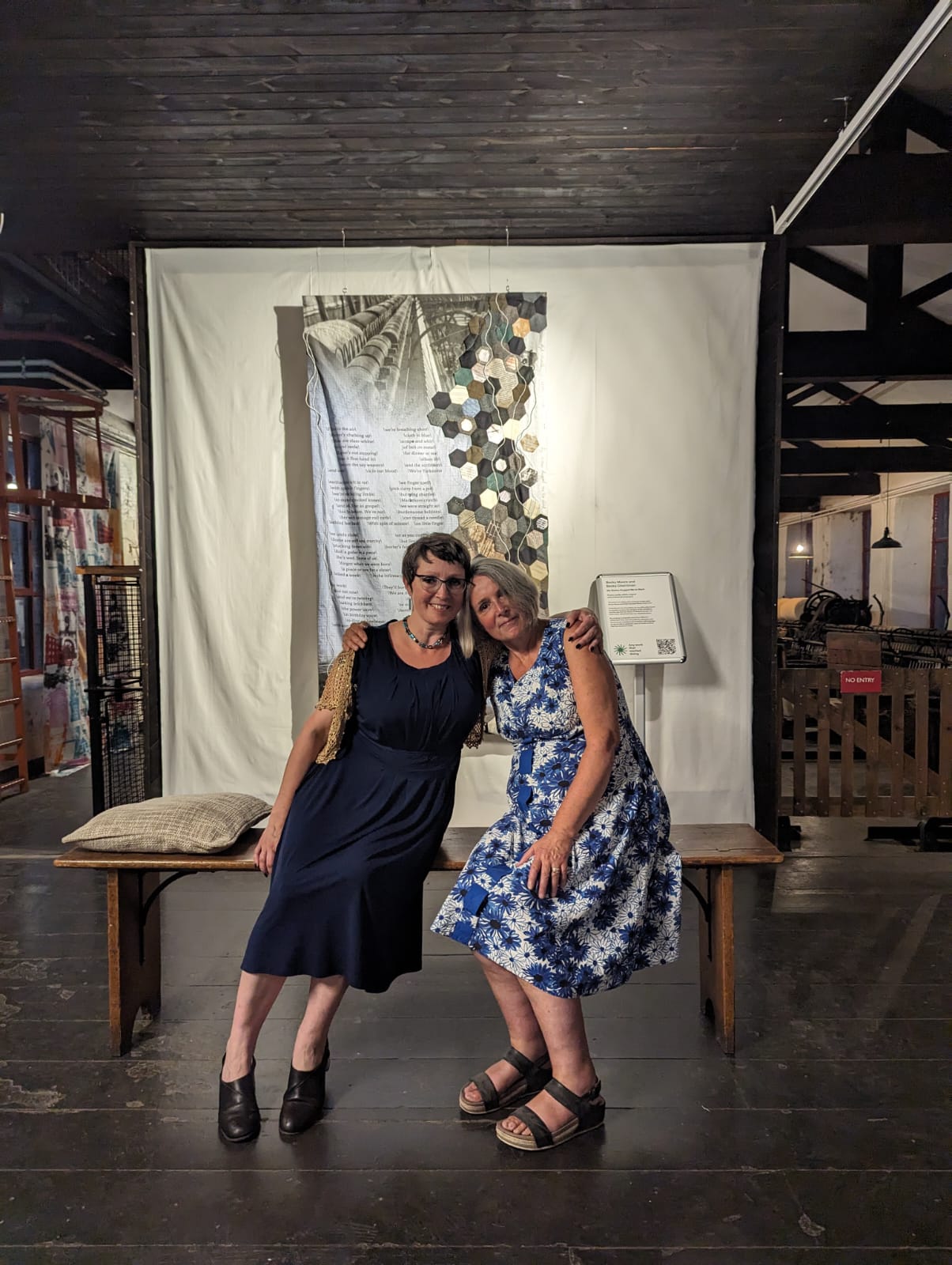 We have blogged in depth about our process of working together and the context of our piece at the Any work that wanted doing website. There you can read two of Becky's blogs, the first two of my three-part blog series and the poem now.
Zeitgeist of Art and Mills
Becky and I drew on testimony from disabled mill workers about what it was like to be disabled in the mill but also accounts by non-disabled mill workers of working life. Oral histories such as that of June Pearce enabled us to evoke some everyday happenings, which were true for many mill workers, disabled or not. I found out recently that June is a poet, which didn't surprise me given her wonderful way with language. She has worked closely with poet Matt Abbott whose words about mill work are now installed at Sunny Bank Mills. Matt wrote a sonnet for June, which was on display on Saturday, when Becky and I visited to hear Jane Walkley talk. Like us, Jane has dealt with peg patterns and looms in her art that blends textiles and ceramics. One thing that resonated was when Jane explained her practice in picking up left behind items and even dust from the mill floor. She spoke about how we attach memories to objects and the spaces we are in, asking questions about what happens to our memories if we don't preserve those objects and spaces.
Mill workers then are clearly part of the artistic Leeds zeitgeist. Indeed, Ian Duhig tells me he will read a poem about textile workers next week during the BBC Contains Strong Language festival. Discovering more local artists who have been inspired by local mills is heartening. It makes me feel as though we and what we have made are pieces of the fabric of something that will keep being added to.
Tour
You can book a free tour of Any work that wanted doing with curator Gill Crawshaw any day this week. I will be with her to read a poem and answer any questions you have about the work and our process on Sunday 17th. Please do read our blog if process is something that interests you, and let us know if it provokes any response.